Beyond the Blue: The Legacy of Yves Klein
Not many artists can lay claim to a color, but Yves Klein (1928-1962) is synonymous with the mesmerizing, deep ultramarine hue he mixed in 1956 and dubbed International Klein Blue (IKB). Using a synthetic resin binder to suspend the ultramarine, Klein was able to preserve as much of the pigment's intensity as possible, yielding a brilliant, vibrational new paint mixture. What inspired the artist to create an entirely new pigment? He desired to visually convey what he referred to as "the void"—a concept informed by his interest in Zen Buddhist teachings—which gestures to the infinite, immaterial space surrounding the visible universe.
In 1957, Klein debuted a series of 11 identical monochromatic canvases painted in the immersive hue. In presenting pure color on canvas, rather than an abstraction of something representational, he sought to bring viewers closer to that inexplicable, immeasurable void that lies beyond the confines of reality. Indeed, staring into one of Klein's immersive canvases is quite like peering into an expansive abyss. 
Such an infinite concept could not be confined to the canvas. What followed was Klein's "Blue Revolution," during which he covered everything from living female bodies to plaster casts of ancient sculptures with IKB. These projects were considered precursors to both performance art and pop art, respectively. In his famous Anthropometries performances, Klein painted nude female models in blue and directed them to drag themselves like paintbrushes across swaths of canvas in front of live audiences. His series of Venus de Milo plaster casts drenched in IKB anticipates the serial, iconic nature of much pop art to come, although the aim of his work was always to reach "the void". This ethos was echoed in Nouveau Réalisme, a movement conceived in 1960 as "new ways of perceiving the real." Yves Klein became the group's leading member, advocating for the "multiplicity of new possibilities" that shaped his work, and would come to characterize the contemporary art world at large.
Despite living a brief 34 years, Klein's legacy lives on not only through the iconic IKB hue, but through an extensive art practice that is said to have influenced the pop art, performance, and minimalist art movements to follow him. Read on to discover rising contemporary artists who share Klein's reverence for color and awe of the infinite.
Yeachin Tsai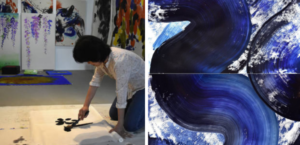 Trained in traditional Chinese calligraphy and brush painting, Yeachin Tsai has created her own hybrid style of Eastern and Western sensibilities. Drawing on both her training in Chinese painting and the playful, nonobjective forms of Western modernism, Yeachin makes sweeping abstract paintings distinguished by their rich color and confident, minimalist mark making. Alternating between moments of deep, saturated color and traces of raw, dry brushstrokes, Yeachin's compositions emit a vibrational quality akin to Yves Klein's expansive paintings. Born in Taiwan, Yeachin now lives and works in New York. See more of Yeachin's work here.
Robert Tillberg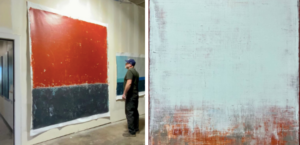 Often opting to work on a large-scale canvas, painter Robert Tillberg skillfully blends nuanced color and texture into entrancing minimalist paintings. Inspired by the quiet, natural surroundings of his adopted hometown, Klamath Falls, Oregon, Robert's paintings recall the atmospheric, icy mountain air. In their weathered texture and subtle gradients, Robert's canvases invite viewers to get lost in an abyss of color. Robert's paintings are held in private collections around the world. See more of Robert's work here. 
Anna Sidi-Yacoub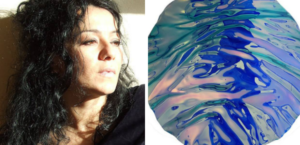 Anna Sidi-Yacoub's wall-mounted sculptures ripple and reflect the space around them, drawing the viewer into their iridescent peaks and valleys. With Yves Klein's monochromatic paintings, each viewer was meant to uncover a new and unique experience. Anna's sculptures provide similar aesthetic experiences, with their reflective surfaces playing off different vantage points and lighting conditions to appear subtly changed with each viewing. Inspired by the wind and sunlight dappling ocean waves, Anna's sculptures bring us closer to nature and, by consequence, closer to infinity. Anna is based in Kerry, Ireland, and she has exhibited throughout the UK. See more of Anna's work here.
Chloe McCarrick
London-based photographer and printmaker Chloe McCarrick uses cyanotype and collage to reimagine found images, delving into narratives about unsung women, science, and natural history. Though a natural result of the cyanotype process, the pervasiveness of blue throughout Chloe's work comes to support her conceptual interest in our connection to each other, history, and nature—connections united in a cosmic array of deep blue and scintillating gold leaf. Interested in the multitude of possibilities in image production, Chloe recalls Yves Klein's spirit of expansiveness and experimentation. See more of Chloe's work here. 
Love reading about all things art? You can have articles from Canvas, curated collections, and stories about emerging artists delivered straight to your inbox. Sign up for the Saatchi Art Newsletter.