Art History 101: John Singer Sargent's New Portraits
Bridging the transition between post-Renaissance movements and early Modernism, John Singer Sargent is renown for his fresh take on portraiture. Born in Florence to American parents, Sargent trained in Paris and spent most of his life traveling throughout Europe painting. His approach didn't radically alter portraiture but fuse styles and genres into a distinct manner. Though he also painted landscapes and watercolors, his painterly skill was marked through portraiture, replete with touches of Edwardian luxury and leisurely opulence. An air of casual confidence and privilege of his sitters was reified through a fantastically buttery color palette, with fabrics painted in dreamy pastels or sensual reds and his smudgy brushstrokes incorporating an impressionistic flourish.  In honor of his birthday this week, take a closer look at a few of his best-known portraits and why they're extraordinary.
Madame X, 1884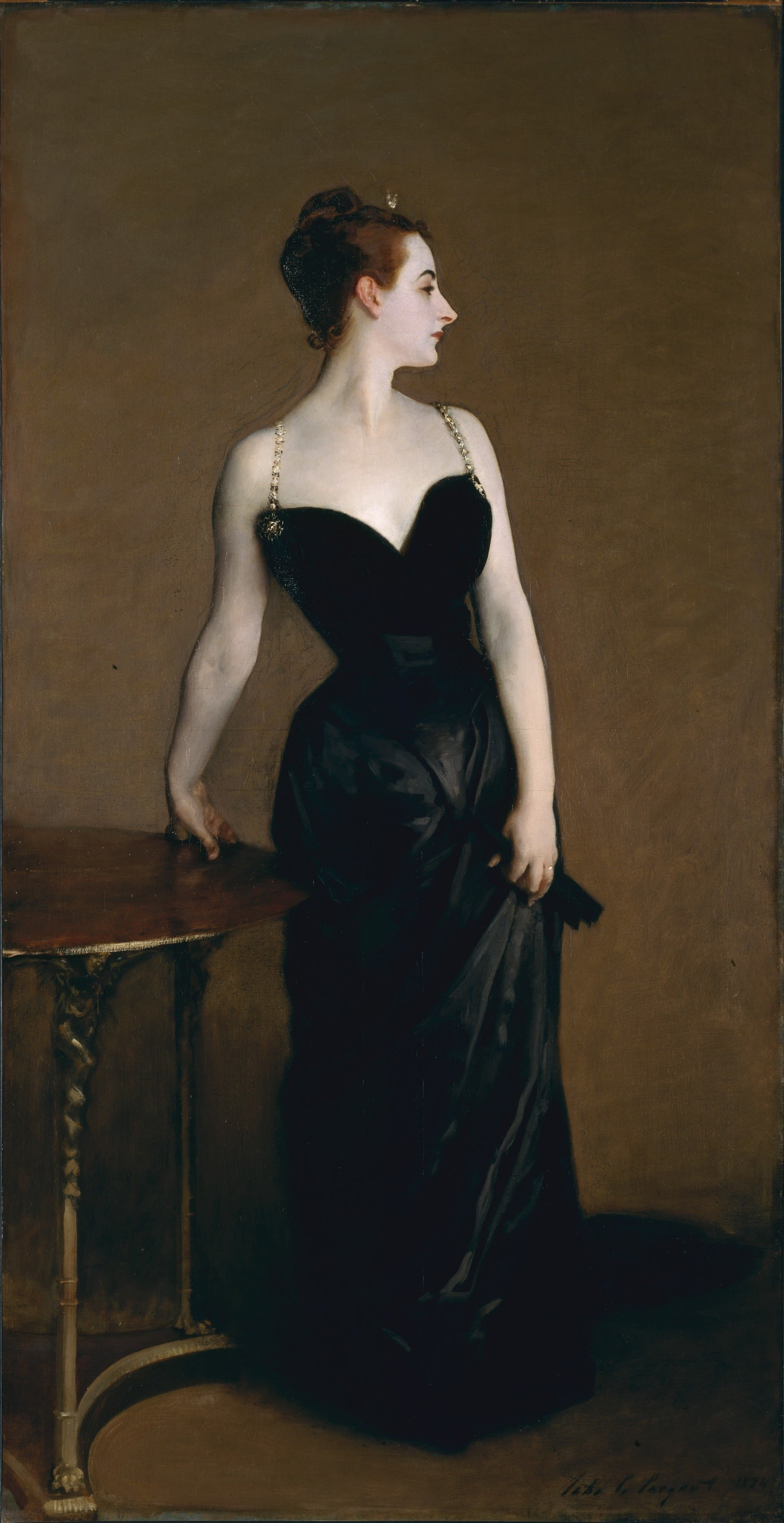 (Image: Wikipedia)
In his portraits of society figures, Sargent maintained conventions of the English Aristocracy alongside his own unique style that presented a new way to utilize space and placement of figure on canvas. Perhaps his best known work, Madame X, or (Madame Pierre Gautreau), depicts a young socialite named Virginie Amelie Avegno Gautreau, notorious in Parisian high society for her beauty and indiscrete affairs. Sargent was taken by her unconventional looks and painted the work not on commission but of a desire to present his own depiction of a controversial figure. Sargent drew upon her character for the portrait, the paleness of her skin is exalted by the simplicity of her pose and overall composition, drawing the viewer's eye into her confident display of flesh.

Study for Madame X. (Image: WikiArt)
The work was met with criticism at its Paris Salon unveiling in 1884, considered too risqué amongst the Parisian society crowd. The harsh reception of the work, which he spent months preparing and tweaking, drove Sargent from Paris to London where he felt his progressivism would be better received.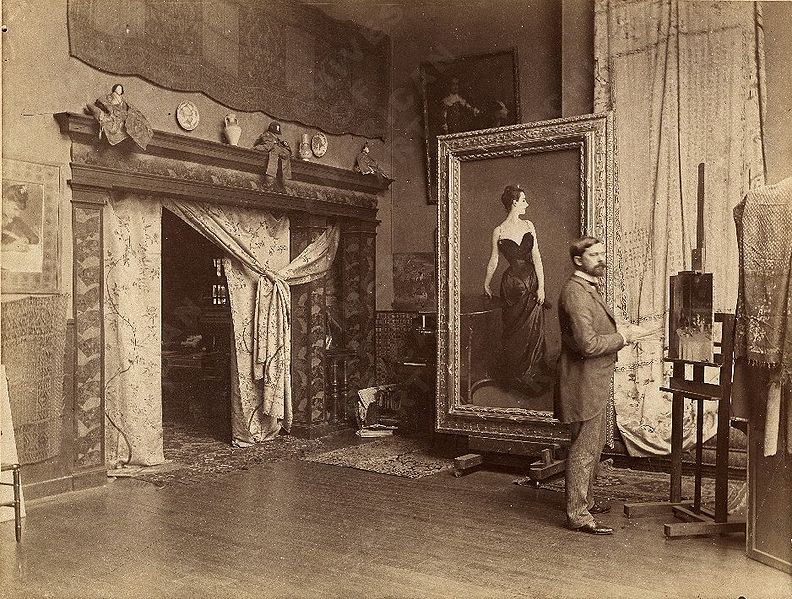 Sargent with his Madame X painting, 1885. (Image: Wikipedia)
Portrait of Lady Agnew of Lochnaw, 1893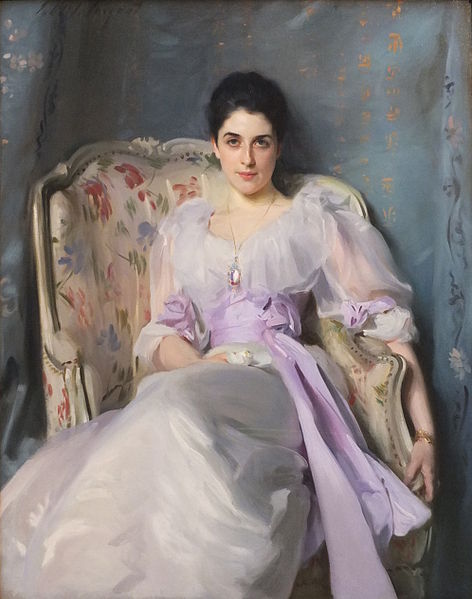 (Image: Wikipedia)
Sargent was commissioned in 1892 to paint a portrait of Lady Agnew, a society woman and the wife of a Baronet. Wealthy elites were long known to commission portraits to affirm their status, and Sargent's keen talent bore an added prestige. The portrait of Lady Agnew exemplifies the artist's smudged brushstrokes and smoky palette, evoking a dreamlike effect. Her pose is relaxed and comfortable, diverging from the stiff formality of Baroque and Renaissance portraits and offering a new sense of intimacy with the subject. Sargent drew stylistic inspiration from Old Masters like Van Dyck in his treatment of luxurious fabrics and objects, here painting Lady Agnew atop a French Bergère. 
The work was exhibited in 1893 at the Royal Academy in London and was immediately recognized for its charm.
Mrs. Carl Meyer and Her Children, 1896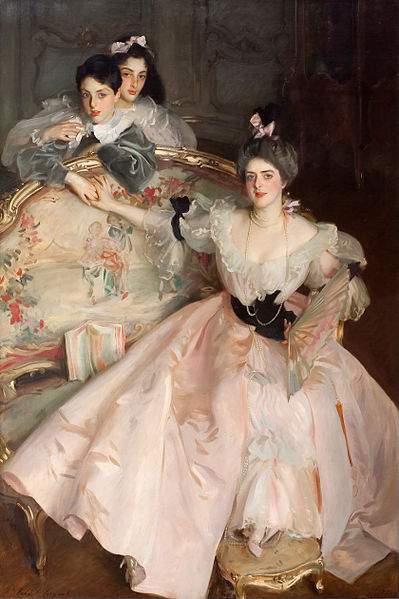 Mrs. Carl Meyer and Her Children, 1896. (Image: WikiArt)
Mrs. Carl Meyer and Her Children is another commissioned portrait on behalf of Baronet Meyer, a British banker with ties to the Rothschild family. The work is of a British family, but exudes a sense of French opulence in the sumptuous fabric of Mrs. Meyer's gown and chair. Sargent chose to position her in front of her children, who appear playfully coy in her dominion.
Artists today still draw inspiration from Sargent's style. We've put together a selection of works that pay homage to Sargent, from emerging Saatchi Art artists from around the world.
Love reading about all things art? You can have articles from Canvas, curated collections, and stories about emerging artists delivered straight to your inbox. Sign up for the Saatchi Art Newsletter.