One Hundred Years of Bauhaus
Founded a century ago, the iconic Bauhaus school came to shape contemporary approaches to art and design, despite operating for only fourteen years under intense opposition from the National Democratic Socialist Party. Informed by the German ideal of Gesamtkunstwerk, or a total work of art uniting art forms across disciplines, the Bauhaus school developed a pedagogical philosophy and formal vocabulary that has impacted a breadth of creative practices over the past century, from performance art to interior design.
With an egalitarian mission to make quality designs accessible to all homes and to dispense with the social hierarchy of fine art versus craft, German architect Walter Gropius founded the radical arts school in 1919. "Art into industry" was the Constructivist-inspired tagline embraced by Gropius to encourage students to engage with technology and make designs compatible with mass manufacturing. This democratic spirit endured under director Hannes Meyer, who prioritized "the needs of the people instead of the need for luxury," a principle that bred timeless designs even as it saw conservative politicians slash the school's funding.
Core classes at the Bauhaus emphasized color theory, materials, and formal relationships, and were taught by pioneers of abstraction including Paul Klee, Wassily Kandinsky, Laszlo Moholy-Nagy, and Josef Albers. These preliminary fine art courses prepared students for craftsmen-led courses in the areas of metalsmithing, weaving, typography, and even cabinetmaking, which yielded a variety of works in diverse styles—from Marcel Breuer's airy furniture and Marianna Brandt's sculptural dishware to Anni Albers' experimental weavings—all shaped by the dictum "form follows function." 
These three Saatchi artists reflect Bauhaus' legacy, not only by continuing the movement's formal investigations of geometric abstraction and reduced color palettes, but by adopting its confluence of fine art and design, and its commitment to craftsmanship.
Robert von Bangert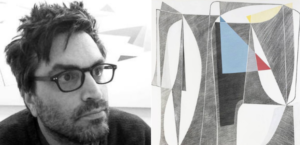 Robert von Bangert combines the primary colors emblematic of Bauhaus with curvilinear forms that spontaneously leap from one anchor point to another. While these energetic compositions are reminiscent of Wassily Kandinsky, Paul Klee's description of active lines "on a walk, moving freely, without a goal" captures the levity of the meandering lines that shape Robert's paintings. Robert's reductive paintings—ever evocative of mid-century modern design—have been used as set design in Mad Men, and seven of his works can be seen at the landmark Beverly Hills Hotel. 
Paul Bik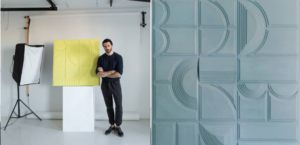 Though Polish artist and fashion industry veteran Paul Bik draws heavily on Italian postmodern architecture—which challenged the austerity of modernism with playful and unexpected designs—his restricted color palettes and geometric compositions are akin to Bauhaus' interest in exploring formal relationships. This exploration is augmented by the limited color palettes and subtle multidimensionality of his works—Paul builds up layers of cardboard, wood, and paper, which are then fixed with resin and finished with a monochrome coat of matte or metallic paint. The resulting three-dimensional compositions are as shaped by the delicate interaction between light and shadow as they are by the artist's hand. 
Alyson Khan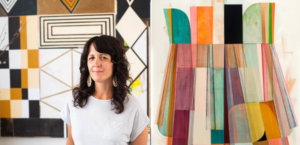 In his 1963 book Interaction of Color, Josef Albers wrote, "In visual perception a color is almost never seen as it really is—as it physically is. This fact makes color the most relative medium in art." According to the Bauhaus instructor, one can only understand a color in the context of another, so that the colors might push and pull against each other, advancing or receding within the picture plane. Colorado-based painter Alyson Khan—who counts mid-century modern design, stained glass, and Yorùbá dance costumes among her varied influences—reduces symbols to basic forms and washes of color, which are then layered and juxtaposed into dense compositions. Alyson's rhythmic blocks of color seem to reverberate against the canvas, comprising a joyful play on our perception of color and its ability to act as a window into the infinite.
Love reading about all things art? You can have articles from Canvas, curated collections, and stories about emerging artists delivered straight to your inbox. Sign up for the Saatchi Art Newsletter.