5 Saatchi Art Artists That Echo Hockney
By his mid-twenties, David Hockney had already made a name for himself in the U.K. Pop Art movement. Throughout his prolific career he has re-invented himself numerous times, and continues to embrace new art movements and technology in art.
As he continues to work as an artist today, he furthers his legacy and maintains his influence on fresh and emerging artists. There is no denying that he's captivated the art world with his now iconic refreshing poolscapes and signature California cool.
Hockney's influence is not lost on us – last year we went for a more on-the-nose interpretation of his work and compiled our favorite art pools. This year, in celebration of his 80th birthday, we thought we'd highlight 5 of our own Saatchi Art artists that echo Hockney.
Ieva Baklane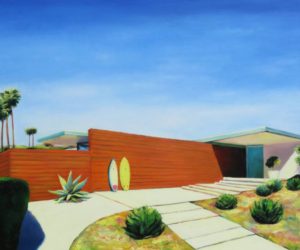 "House by the ocean" by Ieva Baklane (Image: Saatchi Art)
One of Hockney's most prevalent themes deals with domestic life. Like Hockney, Ieva Baklane captures domesticity by conveying the interior and exterior of homes. Large spaces of bright, saturated colors also mirror Hockney's painting style.
A K Nicholas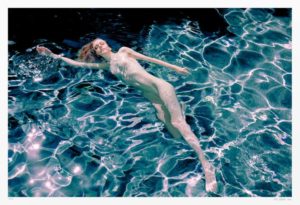 "Ava Wishes for Summer" by A K Nicholas (Image: Saatchi Art)
Throughout the 1960s and 1970s, swimming pools served as both the backdrop and subject to many of Hockney's artworks. Using the same setting, A K Nicholas photographs nude models in rippling waters. Both artists are able provide a glimpse into an intimate moment in a private setting, that of a backyard swimming pool where one does not typically see.
Andy Shaw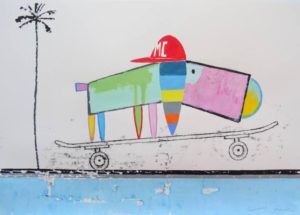 "MC Skateboard Wheelie Dog" by Andy Shaw (Image: Saatchi Art)
Andy Shaw portrays icons of Los Angeles in his paintings such as palm trees, skateboards, and the famous overlapping L.A. logo. Like Hockney, Shaw's love of Los Angeles and Southern California are clear. Shaw's pop art epitomizes the Los Angeles captured by Hockney in the 60s and 70s.
Cecile van Hanja
"Cap Moderne" by Cécile van Hanja (Image: Saatchi Art)
Hockney, who was greatly influenced by Cubists, combined several views of architectural spaces, such as split-level homes, to create a composite view. Using a similar technique, Cécile van Hanja's paintings tread the line between the private and public sphere. In her paintings, thin layers of acrylic and oil paint allow the colors underneath to shine through, creating a geometric transparent layered structure and intensifying the depth of the composition. 
Dean West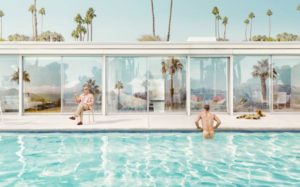 "Palm Springs" by Dean West (Image: Saatchi Art)
Effortlessly capturing the casual culture of Southern California, Dean West pays direct homage to Hockney's "Peter Getting Out of Nick's Pool" with his photograph "Palm Springs". Dean reflects the nude male figure propelling himself out of a backyard swimming pool which is the subject of Hockney's painting.
Love reading about all things art? You can have articles from Canvas, curated collections, and stories about emerging artists delivered straight to your inbox. Sign up for the Saatchi Art Newsletter.