4 Saatchi Art Artists that Echo Keith Haring
Keith Haring was born on May 4, 1958 in Reading, Pennsylvania. He developed a love for drawing from an early age, learning from his father and pop culture including Disney and Dr. Seuss. It was no surprise when Haring decided to pursue the arts, moved to New York City and enrolled in the School of Visual Arts (SVA).
Not long after moving to New York, Haring's artistic career took off. His series of chalk drawings in New York City's subway earned the public's attention and popularity. He was then invited to paint several different murals around the world from the Berlin Wall to the Australian Centre for Contemporary Art which garnered international recognition.
The lasting impression of Haring's work and unique style was admired and respected by many. So we'd like to celebrate his birthday by highlighting 4 Saatchi Art artists that echo Keith Haring's style, approach, or vision.
Andy Shaw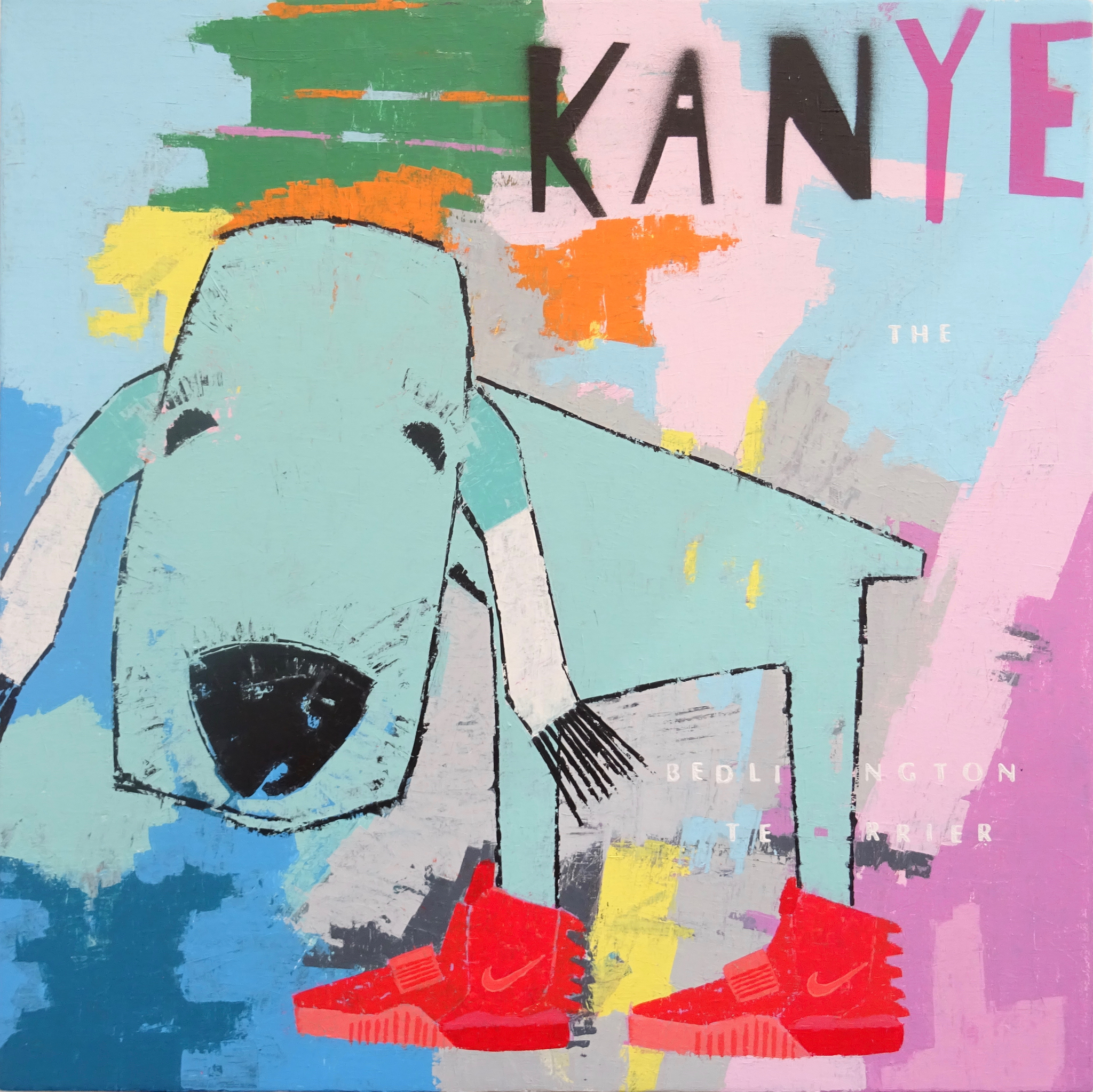 (Image: "Kanye West the Beglington Terrier in Nike Air Yeezy 2's" by Andy Shaw)
Andy Shaw draws inspiration from popular culture. Re-imagining ideas and icons from music, sports, design, or even film while challenging the boundaries of pop art and societal norms. Haring appreciated artistic productions like these that called for radical new cultural possibilities and pushed for expanding our social understanding.
Gino Belassen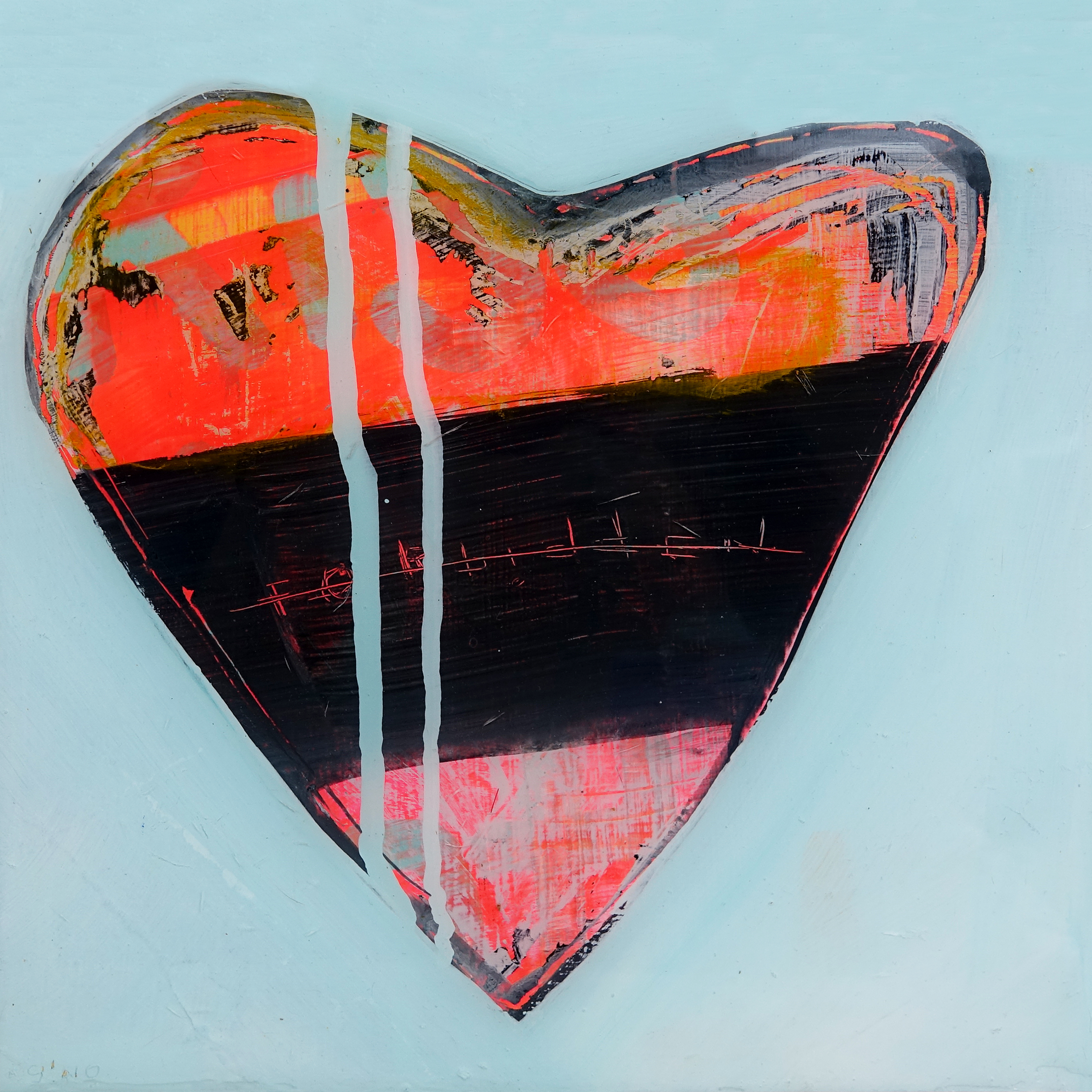 (Image: "Forbidden Love" by  Gino Belassen)
The radiant heart-motif was one of Keith Haring's most controversial and memorable motifs in his works. It was symbolic to Keith's hopeless romantic nature and the struggle as an openly gay man in the 1980s. Similarly, Saatchi Art artist Gino Belassen shares Haring's vision of using this universally known symbol to remind us to always love fearlessly and boldly.
Jonas Fisch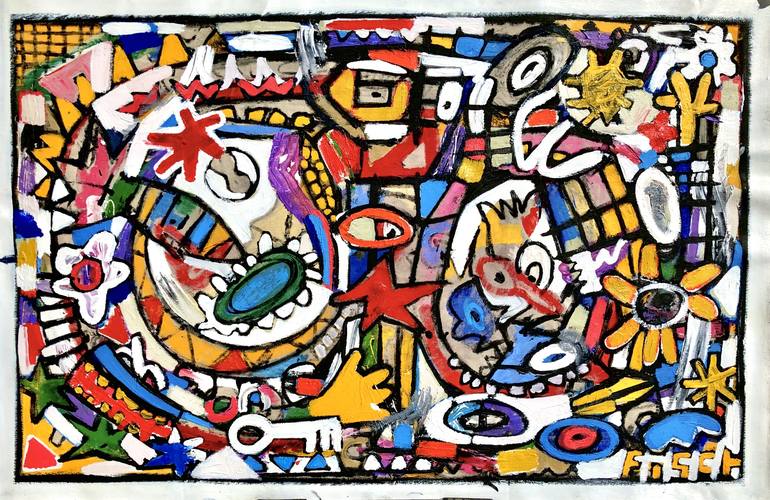 (Image: "Muscle Up" by Jonas Fisch)
Jonas Fisch's colorful abstract paintings are often a combination of figures, words and shapes inspired by graffiti and street art. It is obvious how Jonas' work is closely tied to Haring's visually, with the use of simple imagery, bright colors, and clean lines. Haring and Fisch also share their ability to generate social commentary through their works. 
Pure Evil

(Image: "Keith Haring's Nightmare" by Pure Evil)
Pure Evil is not afraid to use art as a political, social or cultural commentary. One of Pure Evil's overarching theme is the death of utopia, which is his direct response to the modern society we live in. Like Haring, Pure Evil uses art as outlet in producing visual imagery that speaks louder than words, similar to Keith Haring's "Free South Africa" that directed people's attention to South Africa's situation during apartheid during the 80s.
Love reading about all things art? You can have articles from Canvas, curated collections, and stories about emerging artists delivered straight to your inbox. Sign up for the Saatchi Art Newsletter.
SaveSave
SaveSave
SaveSave
SaveSave
SaveSave
SaveSave
SaveSaveSaveSave
SaveSaveSaveSave
SaveSave