New York: Marit Geraldine Bostad at Mana Contemporary
Norway-based Saatchi Art artist Marit Geraldine Bostad recently completed an artist-in-residency at Eileen S. Kaminsky Family Foundation (ESKFF) this summer. Marit thoroughly enjoyed her time at ESKFF, developing her artistic expression through encounters with the other promising artists at the residency, and through her exploration and embracement of New Jersey's eclectic communities. A new, diverse community coupled with a refreshing lack of routine gave her the creative freedom to develop her latest series. 
ESKFF´s Summer 2018 artists, staff and partners/collaborators (Image: ESKFF)
Eileen S. Kaminsky Family Foundation (ESKFF)
ESKFF is a non-profit, contemporary art and education residency program founded by Eileen S. Kaminsky for national and international artists and students. The organization embraces the individual artistic journey by providing enhancement programs that connect inspiring artists, foster individuals, and introduce the next generation of artists to the larger arts community.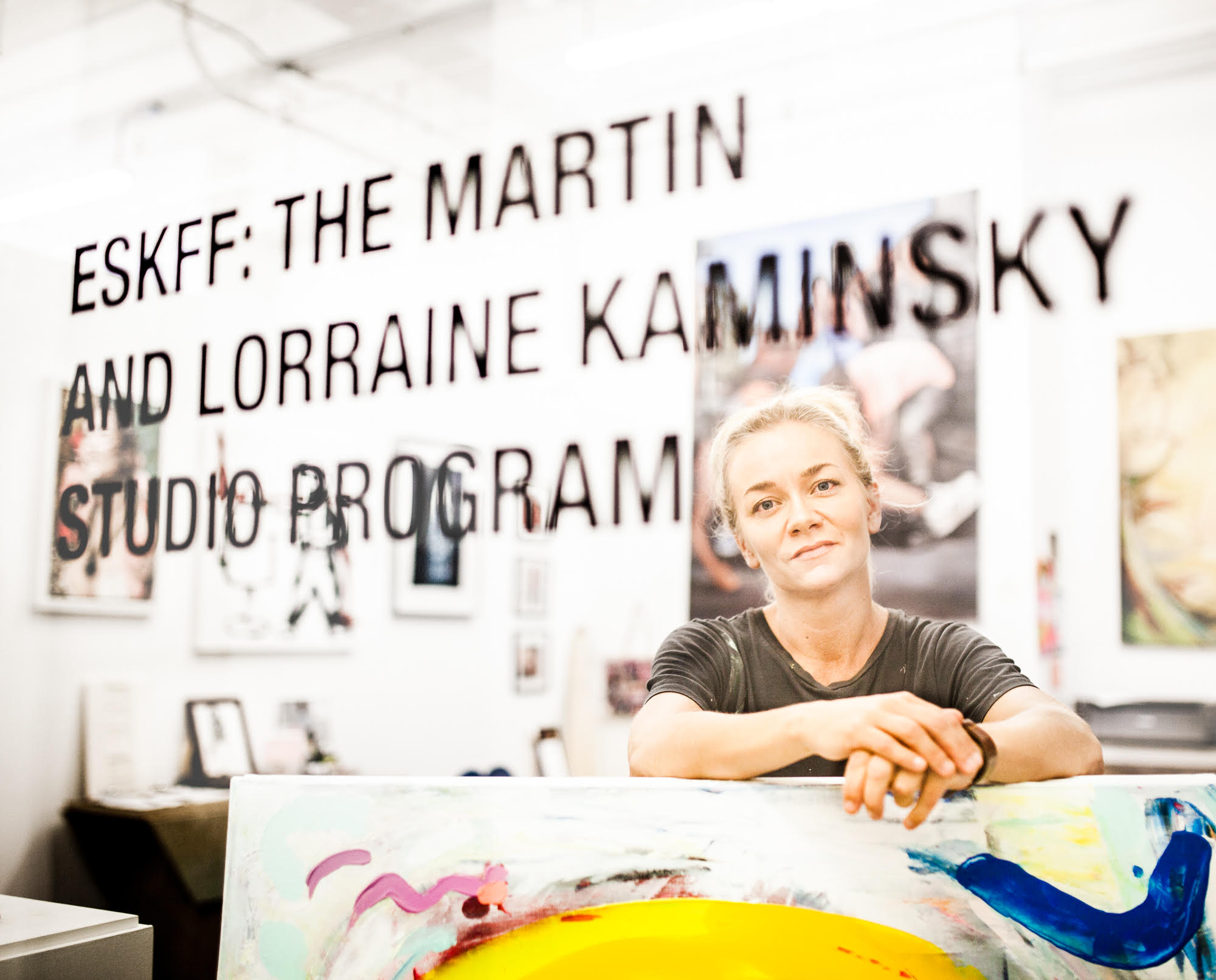 Marit at Mana Contemporary, Jersey City (Image: Erlend M. Saeverud)
Mana Contemporary
Mana Contemporary, where ESKFF is located, is a leading arts destination dedicated to celebrating the creative process. Eugene Lemay, artist, and founder and president of Mana Contemporary and his partners (including fellow artist Yigal Ozeri) transformed a former Jersey City tobacco warehouse built in the 1920s into a cultural center of artist studios, exhibition spaces and supplementary services.
Founded in 2011, Mana Contemporary is one of the largest and most innovative contemporary art organizations in the United States. Through its unifying design, Mana offers artists large spaces, increased services and diverse programming. The flagship location in Jersey City is rapidly growing and will eventually encompass a footprint of more than two million square feet, attracting an ever-expanding creative community.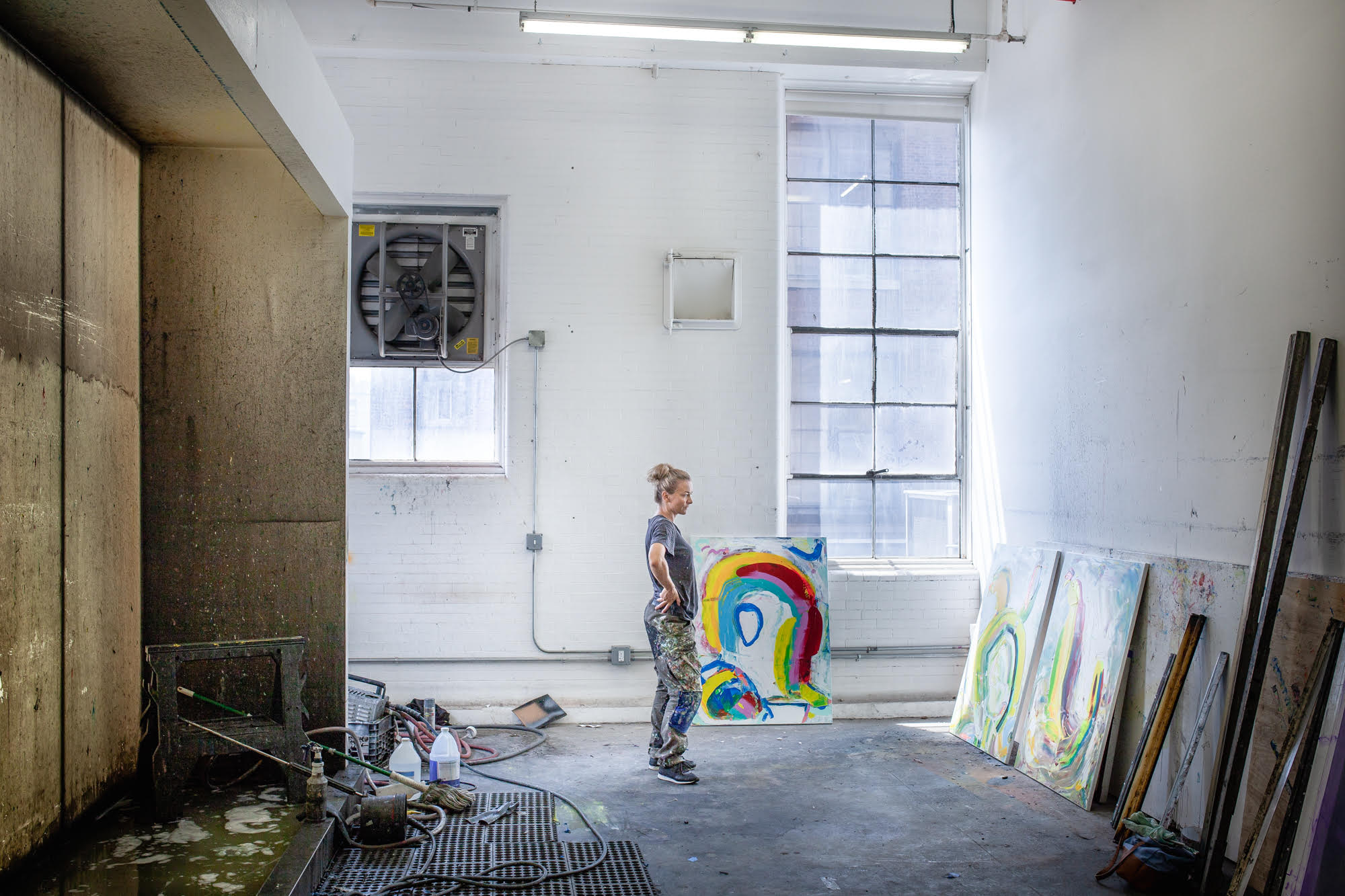 Inside her studio at Mana Contemporary (Image: Erlend M. Saeverud)
Jersey City
Outside Mana's mammoth complex, Bostad found small pleasures in her morning walks through Jersey City, deliberately taking different routes to the studio each day and discovering the many different cultures and people of the city.
Inspired by the bustling city and fellow artists-in-residency, Bostad was able to create a number of new works, stating: "I was constantly pouring colors onto my canvases without any restrictions, with no plan. I felt an immense feeling of freedom and gratitude. My daily tours of the city gave me so much excitement, they fueled my creativity, and I felt an intense desire to continuously produce. Freedom is something we think we have – but when we actually examine our freedom we are surprised by how little we choose to allow ourselves. People tend to follow patterns – every once in a while everyone should step out of their controlled environment and start from scratch. Unlearning, reprogramming – and getting lost in something outside of our comfort zone –that is the only way to truly see things differently."
Collection of personal photos of Jersey City (Image: Marit Geraldine)
EURO Residency
ESKFF's EURO residency is an intense five week program that promotes collaboration amongst artists, to come together as a family through mutual inspiration, creative experimentation and the sharing of ideas. Together, the ESKFF artists enjoy the exciting art scenes of New Jersey and New York through studio visits, gallery tours and interviews, and the opportunity to network with the cities' collectors, curators and dealers. Founder, Eileen Kaminsky plays a vital role in curating this experience for artists in the program as she follows each one's journey, offering them individual feedback, and adding their works to ESKFF's private collection and auction. 
Selection of works created while in residency (Image: Erlend M. Saeverud)
What's Next
The work Marit produced at ESKFF has already been selected for representation by two well-regarded New York galleries. A selection of work forms part of the exhibition "Made in New York" at Madelyn Jordon Fine Art, and several works will be included in the upcoming group exhibition "International Women" at 107 Bowers Gallery, New Jersey in March 2019.  What remains from her ESKFF-inspired series has been shipped to Spain Altea, at a winery and restaurant called Casa Vital. Marit's work will be featured in Casa Vital's "Colors from New York" exhibition opening mid-September 2019.