Words in Sight by Gillian Hyland
Gillian Hyland is an award winning Fine Art photographer living in London. 'Words in Sight' will be a self-published stunning selection of photographs and poems by the artist, spanning ten years of work.
The narrative photography series has been inspired by poetry written by the artist over the past decade and will showcase for the first time the pictures with the words together, giving a deeper perspective and insight into the series.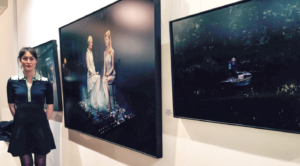 Hyland's mesmerizing and supernatural staged images are presented as film stills or dramatic moments from around the world. Hyland's unsettling mise-en-scène are full of sex and desire, sadness and nostalgia. Narratives that are psychologically evocative – at once sublimely theatrical yet poignant. Frozen in time, solitary and vulnerable moments are presented in glorious technicolor and timeless sets. Her dramatic photographs are based on her own poems, and depict characters in human dramas and isolated emotional situations.
Gillian's Kick Starter campaign aims at raising the production funds required to produce this fine art photo book. Everything is in place to have the book ready to deliver before Christmas 2017, with books and boxes shipping in December. This first 100 backers will be named in the book as a thank you.