The Other Private View Project
Exclusive to this Spring 2017 edition of The Other Art Fair London (30 March – 2 April, Victoria House), the team are delighted to present a collaborative Private View invitation with one of the fair's promising exhibiting artists. For this special Private View project, fair artist Benjamin Thomas Taylor was invited to produce a unique response to the fair's ethos in presenting 'The Other'.

Since his first exhibition in 2015, Benjamin's work has been sought after by collectors worldwide. Growing up in the vast rural spaces of Snowdonia, yet spending much of his creative life in the bustling city, Benjamin's work is full of playful juxtapositions.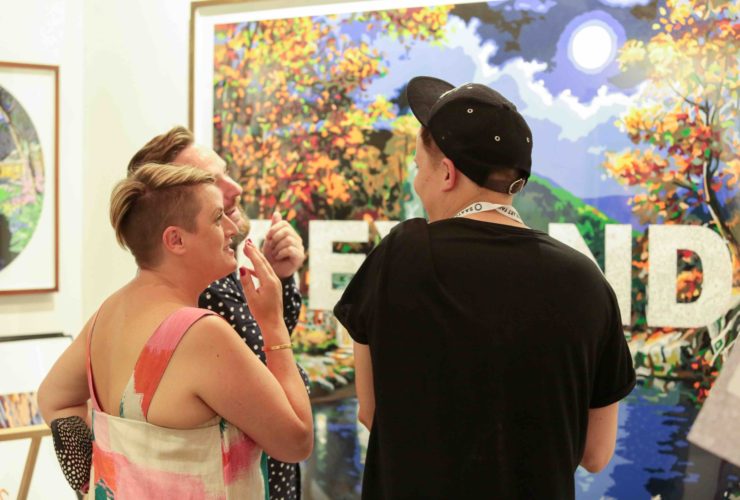 Flat blocks of colour surround diagrams of numbers and lines, areas of text are embedded in alpine landscapes, detailed painted objects are cast within vast areas of empty space and appropriated imagery is placed within original compositions. The end result is a kind of romantic Pop Art. Benjamin's work has also been commissioned by brands including Nike, Atlantic Records, Paolo Nutini and Rough Trade.

Benjamin's Other has been created especially for this Spring 2017 edition's Private View invitation. The design will be sold exclusively at The Other Art Fair as a signed limited edition print as part of a series of 25. The prints cost £180 (£250 framed) and can be bought directly from Benjamin on 30 March – 2 April at the fair. Benjamin will also release a new collection of paintings and limited edition prints at the Spring fair.

The Other Art Fair returns this 30 March – 2 April to Bloomsbury's stunning Victoria House, presenting 130 handpicked emerging artists for art lovers to meet and buy directly from. View the fair's Spring Programme or scroll through the artist exhibitor list to plan your visit to the fair.