Sydney: Introducing Selection Committee Member Sophia Kouyoumdjian
We are thrilled to unveil our esteemed Selection Committee for the upcoming edition of The Other Art Fair Sydney . These members of a globally significant art community set the high standard of the fair, ensuring you can buy from our artists with the confidence that you are investing in the very best of emerging talent.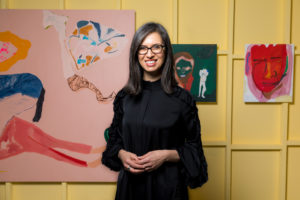 Sophia Kouyoumdjian has worked in the arts sector for over 15 years across directorial, curatorial and exhibition management roles and is currently the Director of Parramatta Artist Studios. Previously she worked as the Curator at Blacktown Arts Centre and has comprehensive experience in Western Sydney's contemporary arts sector. In 2017, Sophia guest-curated Primavera at the Museum of Contemporary Art, Australia.
The Other Art Fair will return to the Australian Technology Park in Sydney from March 22nd – 25th 2018. Tickets for the fair are now live and for more information about the fair program visit sydney.theotherartfair.com