Sydney: Introducing Selection Committee Member Barbara Flynn
We are thrilled to unveil our esteemed Selection Committee for the upcoming edition of The Other Art Fair Sydney . These members of a globally significant art community set the high standard of the fair, ensuring you can buy from our artists with the confidence that you are investing in the very best of emerging talent.
Art advisor Barbara Flynn has drawn on her extensive experience as a New York gallery owner and curator to become one of Australia's leading curatorial advisors to architects, development companies and public organisations. She is curator of Jenny Holzer's groundbreaking public artwork I STAY (Ngaya ngalawa) at 8 Chifley Square, Sydney, and is in the process of overseeing some of the most innovative and anticipated public art projects in Australia, including Sydney's City Centre (for City of Sydney) and new precincts at Circular Quay (AMP Capital, Quay Quarter Sydney), Central Park (Frasers Property and Sekisui House) and Greenland Centre (Greenland (Australia) Investment Pty Ltd) with artists Olafur Eliasson, Jonathan Jones, Pipilotti Rist, Tadashi Kawamata and Agatha Gothe-Snape.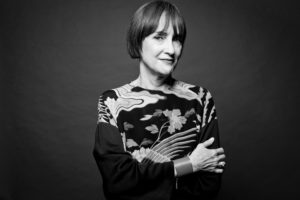 Her role as Curatorial Advisor to the Barangaroo Delivery Authority and Lend Lease for Barangaroo (2014–16) saw her begin the process of selecting and commissioning artists for a range of innovative, site-specific artworks for Barangaroo South on Sydney Harbour. As Curatorial Advisor to the City of Sydney for the City Centre (2013–18), Flynn drafted the City Centre Public Art Plan that was unanimously adopted by Council in July 2013, and identified artists to be part of the transformation of the Sydney city centre with the implementation of light rail in George Street. She continues her role as primary liaison to the artists commissioned for the city centre: Junya Ishigami, Tracey Emin and Hany Armanious. She is contracted to The University of Sydney to write a campus-wide Public Art Masterplan and is the author of a Stage 1 study of public art for the University of Technology, Sydney. South of Sydney, Flynn is overseeing a new work of art by emerging artist Mike Hewson for Wollongong's revitalised Crown Street Mall on behalf of Wollongong City Council.
Flynn is a dual citizen (US and Australia). Before arriving in Australia in 1996, she was a gallery owner in New York (1980–94) and an executive with Gagosian Gallery, New York (1994– 98). She held curatorial positions in the Kaiser Wilhelm Museum, Krefeld, and Städtische Kunsthalle Düsseldorf museums in Germany, with funding from a Yale University Murray Fellowship. Her studies in art history were completed at Yale University (BA cum laude 1975). She undertook studies for a PhD at New York University's Institute of Fine Arts (1977–81).
Flynn's contacts are wide-ranging, which enables her to bring an active network of artists, curators and other contributors to any project she oversees.
The Other Art Fair will return to the Australian Technology Park in Sydney from March 22nd – 25th 2018. Tickets for the fair are now live and for more information about the fair program visit sydney.theotherartfair.com