Presenting Soho Radio and Guest Artist Reeps One at The Other Art Fair
Echoing The Other Art Fair's ethos of providing a unique art fair environment, we are thrilled to present a packed fair features programme to go alongside the 130 fantastic exhibiting artists.
Producing an eclectic music programme inspired by the city's vibrant and diverse culture, London's own Soho Radio will be live at The Other Art Fair all weekend. In addition to their live broadcasts, Soho Radio will also be presenting an immersive art project converging art, technology and music by legendary beatboxer Reeps One.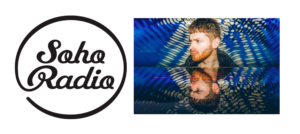 Don't miss signed limited edition prints and artwork by Reeps One which will also be available exclusively at The Other Art Fair. London born artist and producer Reeps One is a multi-disciplinary phenomenon, from his vibration focused installations to his captivating edgy vocal performances, Reeps One is leading the way in redefining vocalism as a creative medium.
Set times for the weekend are:
Thursday 5th October
Reeps One performance with Sonic Sculpture 20 / 30mins + Soho Radio DJs
Friday 6th October 
12:00 – 14:00 – Never Dug Disco with Matt Smooth
14:00 – 16:00 – Soho Garage with James Meynell
16:00 – 17:00 – Unlock Your Mind with James Endeacott
Friday Lates 6th October – 17:00 – 21:00
17:00 – 21:00 – Guest DJ's Set
Saturday 7th October 
11:00 – 13:00 – Tony Moore's Musical Emporium 
13:00 – 15:00 – Andy Lewis
15:00 – 17:00 – The Karminsky Experience Inc
17:00 – 19:00 – Callis in Wonderland
Sunday 8th October
11:00 – 13:00 – La Rudd's Hangover Cure
13:00 – 15:00 – Jack and Bart (Domino Records)
15:00 – 17:00 – Mr Mellows Sunday Scene
To experience Reeps One and Soho Radio's exclusive music and art collaboration, buy your tickets for The Other Art Fair online now.