New York: Artist Photo Shoot Behind the Scenes
In just 2 weeks The Other Art Fair launches in the creative heart of Brooklyn at Greenpoint's Brooklyn Expo Center, presenting 110 unrepresented artists and thousands of show stopping original art starting from just $75. Connecting art lovers directly with the artists themselves, The Other Art Fair is the UK's biggest artist-led fair. To maintain this ethos, we invited four of the exhibiting artists to be the face of our leaflet campaign, just ahead of the fair.
Without further ado, we'd like to introduce the fabulous Emily Clementine, Lisa Hunt, Evan Sklar, and Vicky Barranguet. Learn more about each below. All artist photographs by Rebecca Ashby-Colón.
Emily Clementine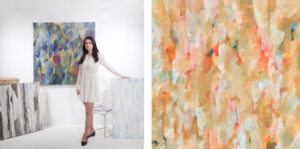 Striking a harmony between intention and spontaneity, Emily Clementine's work depicts an abstract reflection of how we intend to live our lives with balance. Emily's historical inspiration stems from the expressive freedom of Abstract Expressionism and the color statements found in Color Field Painting. Emily begins each piece with a single color and the colors organically grow. The Other Art Fair in June 2017 will be Emily Clementine's first edition . See more of Emily's work.
Lisa Hunt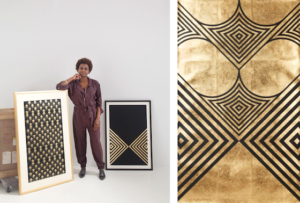 Describing herself as someone who experiences the world fully through her senses, Lisa Hunt gravitates towards materials with natural, tactile properties that appeal to both the eye and the touch. Through the process of screen printing – gold and gold leaf illuminate the patterns in a way that allows them to endure. Lisa's pieces allude to everything from Art Deco and folk art to typographic elements re-purposed and re-imagined. Lisa will be taking part in her first edition of The Other Art Fair in June 2017. See more of Lisa's work.
Evan Sklar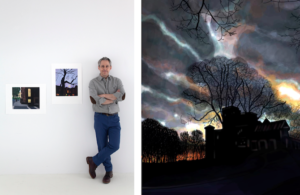 Evan Sklar is a New York based artist who has received a Bachelor of Arts degree from Bard College and an M.F.A in photography from Yale University. Evna's collection on Saatchi Art consists of drawings and screen prints depicting every day local sights and settings in more vibrant and intriguing tones than those one normally notice. Evan currently lives in Brooklyn and will be taking part in The Other Art Fair for the first time in June 2017. See more of Evan's work.
Vicky Barranguet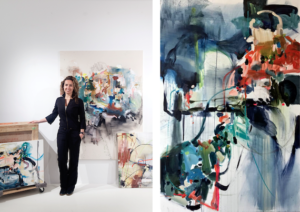 Vicky Barranguet currently lives in New York and will be taking part in her second edition of The Other Art Fair having previously been selected to exhibit in London March 2017. In constant exploration, Vicky's work moves in different directions, approaching a variety of situations and dynamics. Embodied by an empirical investigation of the pictorial structure, where processes departing from spontaneous gestures evolve into elaborate and complex systems where improvisation, organization of form and space, and attention to detail are at its core. See more of Vicky's work.
Receive 50% off tickets to The Other Art Fair by using code 'ART50' when you book online.