Melbourne: Announcing Our Selection Committee Member Andy Gomez
We are so excited to introduce our art industry experts for our upcoming The Other Art Fair Melbourne (2 – 5 August). These members of our Selection Committee set the high quality of the fair, ensuring that you can buy with the confidence that you are supporting and investing in the very best emerging talent. 
Andy Gomez is the Co-Director of Hunger Rozario, a contemporary commercial gallery in Melbourne's Fitzroy. Previously Co-Director of Fort Delta, Andy has also held positions with Karen Woodbury Gallery in Melbourne while previously working with renowned YBA Marc Quinn in London, as the curator of the James Wallace Arts Trust in Auckland, and was the founder and director of Ozlyn, a commercial gallery in Auckland. As well as this Andy has held positions as a curator of the Auckland Art Fair, and as a consultant for various business associations and private collections across New Zealand.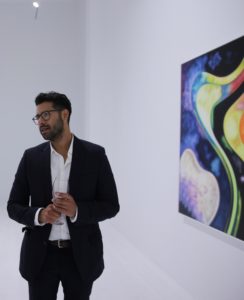 The Other Art Fair Melbourne will return to The Facility, Kensington from 2-5 August 2018. Stay tuned for ticket updates and very exciting fair news to come! 
APPLY NOW
Applications are still open for artist submissions to be a part of the upcoming Melbourne fair, don't miss your chance for our Selection Committee of industry experts to see your work! Deadline: Sunday 15 April 2018.