Meet The Others: Sarrita & Tarisse King
A brand new line-up of Artists are coming to Meat Market in Melbourne this May 26 – 29.  We meet sisters Tarisse & Sarrita King, Gurindji Waanyi Artists working across an impressively large range of mediums. 
It's no surprise that sisters Tarisse and Sarrita have both become practicing artists — before them, their father was also a passionate and talented painter.
"He introduced me to visual storytelling," says Sarrita, "[He] showed me how he told his stories and kept his connection with culture through art."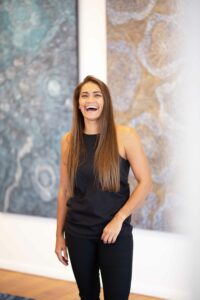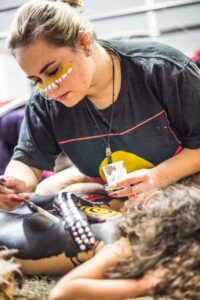 They both worked collaboratively with their father before he passed, and have continued working together on painting projects despite now being separated by a lot of land and sea, with Tarisse in New Zealand and Sarrita in Darwin (Darwin is on Larrakia Land, and The Larrakia people are the traditional owners of the Darwin region from Cox Peninsula to Gunn Point and Adelaide river through to Manton Dam).  Although collaboration is strong in their practices, they have both developed their own individual practices and influences.
"I've favored a bright and contemporary palette for a lot of my career", says Tarisse.  "I feel like it reflects my personality.  I like to look at a lot of aerial photos of the land for inspiration, the connection to country is integral for me.  I love capturing the details of the land."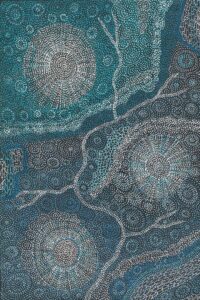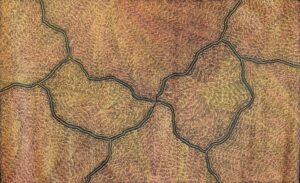 Sarrita is also drawn to land, specifically the top end of Australia.  "Growing up on Larrakia Country, I paint the seasons, the weather and the beauty of the elements.  I feel the land sing to my soul, and it connects me with my heritage and my culture."
It's clear that they both understand the power their work has to tell stories, and influence people.  Tarisse encourages her customers to learn the names of the Traditional owners of the land they live and work, and then share that with others.  The stories of her ancestors and country and culture are preserved in her work, and being the world's oldest civilization, she knows how important that is.  The layers and stories in both of their work draws the viewer in, as Sarrita puts it; "to connect it to themselves and engage with the stories that I've shared".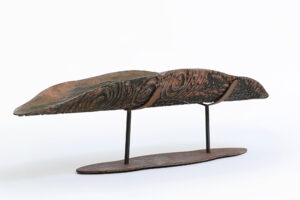 The sisters each have their own booth at this upcoming Melbourne edition of The Other Art Fair, where they will be showing new works, collaborative pieces, sculptures, paintings, and more!  So if you're keen to see some of these beautiful pieces up close and chat to them in person, grab some tickets now and we'll see you there!
May 26 – 29, 2022 at Meat Market in North Melbourne.
Meat Market is on the traditional land of Wurundjeri and Boon Wurrung people of the Kulin Nation.
This article was written by Maya, the Australian Fair Assistant at The Other Art Fair, who lives and works on the traditional lands of the Gadigal people of the Eora Nation.