Meet the Others: RONIM Art
The Game Changers. The Rule Breakers. The Innovators. Discover some of the fantastic emerging talent showcasing their work at The Other Art Fair.
"I have a thing for eyes. I stare at them, sketch them, paint them, photograph them. Eyes tell a story and no matter how trained a person is to keep their composure, the eyes just give it all away." The Other Art Fair Brooklyn artist Courtney Minor (RONIM Art) uses multiple mediums within a single composition to portray the 'vulnerability' and layers in her subjects. Here, she talks to us about what else inspires her, how being in isolation has affected her practice and a top piece of advice for fellow artists.
Tell us about who you are and what you do.
I'm Courtney. I go by RONIM Art. I am a mixed media visual artist and I focus mostly in paintings and sculpture.
If you could describe your work in three words what would they be?
Emotional, Raw and Reflexive.
How did you first get interested in your mediums and what draws you to them specifically?
I've always been drawn to putting together elements to form something new. I love working with my hands and building what pops into my head. I prefer paper, acrylic paint and yarn working and cutting into canvas. Sometimes I work on metal. I use these as they are easily transformed and available everywhere I live.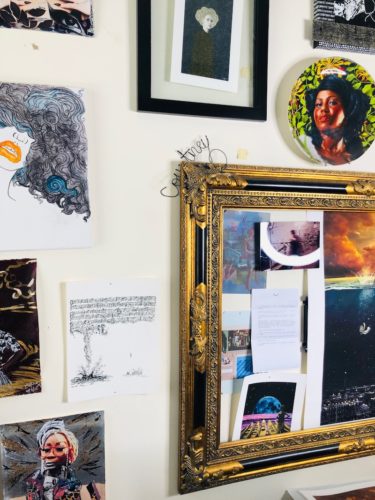 Can you walk us through your process? How long do you spend on one work? How do you know when it's finished?
I typically see an image in my head. Either one that pops up in my waking moments or a photograph I've taken that I want to transform. I take all my own photography for my mixed media works. So basically I do quick portrait sessions with my subjects. Then depending on my mood, I paint the individual images in Procreate or I print out and painting directly on the images. These become my components for my larger mixed media works.
After I create all my components, I lay out my initial idea in my minds eye. Basically think of it as a mind palace for painting. I construct about 50% of the work in my head before I touch the canvas. Then once I feel ready I begin working directly on my canvas building out my image. Then I let it evolve fluidly and allow it to transform. I just keep going, stopping, restarting and then when my gut says "yes it's finished. I just stop."
The idea process can take anywhere from a few hours to months/years. The creation of the work takes about 3-5 days of nonstop work and I mean non stop. It's hard for me to stop working on a piece once I start.
Has being in isolation affected your artwork practice in any way?
It's actually made me flourish. I've been in my head quite a bit. Experienced quite a few trials on the personal front. I dealt with the emotions via my art.
What is the best advice given to you as an artist?
Let it all flow. Whatever you style is. Just let it pour out of you. Don't hold back.
Shop artwork by RONIM Art and other trailblazing artists at The Other Art Fair's Online Studios.
Introducing The Other Art Fair Online Studios, a new online platform offering art lovers around the world access to over 800 Fair artists. The Online Studios will keep our community feeling inspired, engaged, and continue to spread joy through art.