Meet the Others: Marisa Mu
The Game Changers. The Rule Breakers. The Innovators. Discover some of the fantastic emerging talent showcasing their work at The Other Art Fair.
Introducing Sydney based artist Marisa Mu who has exhibited in editions of The Other Art Fair in Sydney, Melbourne, LA and Brooklyn. Marisa took the time to speak to us about her practice, what inspires her the most in the world and where she paints best (spoiler: it will surprise you but after learning about Marisa's work, it's entirely appropriate!).
Tell us about who you are and what you do. What's your background?
My name is Marisa Mu and I am an artist, designer and co-founder of an online platform titled Tits & Co. I'm a woman of colour with immigrant parents that fled their war-torn country of East Timor in the 1970's and so my parents instilled in me a strong work ethic and to live a life of integrity and purpose.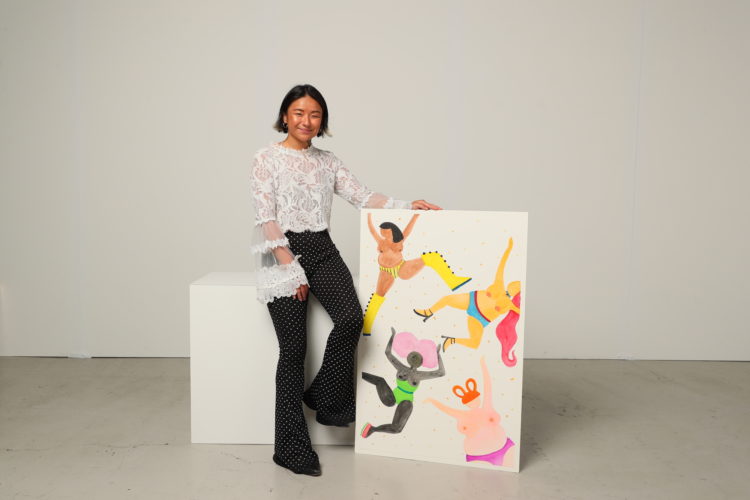 Painting has become a form of therapy for me over the years and the organic traction I was getting from that enabled me to start laying down the foundations for a thriving career as an artist. I am grateful for all the opportunities, obstacles and challenges I have been dealt as it has all informed me on the kind of artist I want to be and the impact I want to leave onto the world. My current practice is a complete embodiment of who I am as a person – a femme energy that is colourful, culturally diverse and powerful.
Where do you draw inspiration from and what does your work aim to say? 
We are so often consumed within our own stories and needs and wants that we forget the importance of experiencing joy through the simple things in life. Those little every-day moments that make us realize that the little things in life are not so little after all. Examples of these moments include dancing freely in our underwear to swinging our bra off after a long day. My work is about amplifying the importance of these little moments of candidness and freedom in a non-sexualised way as to appreciate women for what we are – people, not objects.
"My work is about stimulating positive change within people and embodying the social movements prevalent within our everyday."
Can you walk us through your process for creating a work?
My painting style is very intuitive and the most important elements I channel within each piece is an organic flow in composition and a balance in colours. Each tiny character is an individual and there has never been one the same. It is important to me to always showcase all body shapes and skin tones and really personify their character as their individualism is what resonates with people. 
I approach a new painting by working in layers, I paint all the figures in each skin tone first and get the composition of them perfect and then I go through my entire range of colours and start accessorizing and giving the figures their own personalities. 
This process allows me to work efficiently and ensure that every character is unique in their own way. The final results are incredibly satisfying and nothing makes me happier than seeing a large-scale artwork dotted with hundreds of tiny dancers. The movement of the colours and the powerful energy of the collective is so powerful and even more so when people observe them closely and generate their own connections.
Who are your biggest influences and why?
The person who influences me the most is my mum. She passed away when I was 19 and I have the fondest memories of watching her paint beautiful still-life oil paintings while growing up. I really struggled to pick up the brush for years because of the self-imposed pressure and negative self-talk I was battling with but it wasn't until 2017 when I finally overcame my fears. 
I had a major campaign launch for my design studio and reasoned to myself that this was a good opportunity for me to challenge myself to paint again and showcase a small series of works to compliment my campaign. It was a week out from the launch and I hadn't painted anything as I was riddled with fear and anxiety of disappointing myself and my mum. I recall waking up one morning and hearing my mum's voice tell me 'today is the day you try'.
I was shaking as I was setting out her old paints and I don't know what possessed me that morning but I just started painting naked women dancing freely and I was so overwhelmed with emotion and relief that I was laughing and crying at the same time. I painted 5 small paintings for my launch and they all sold on the night of the opening – I thank the universe every day that I have the opportunity to live out my dreams of being an artist whilst also paying homage to my mum's spirit. Strong women are what inspire me in my every day and I want to spend the rest of my life inspiring others through the power of art.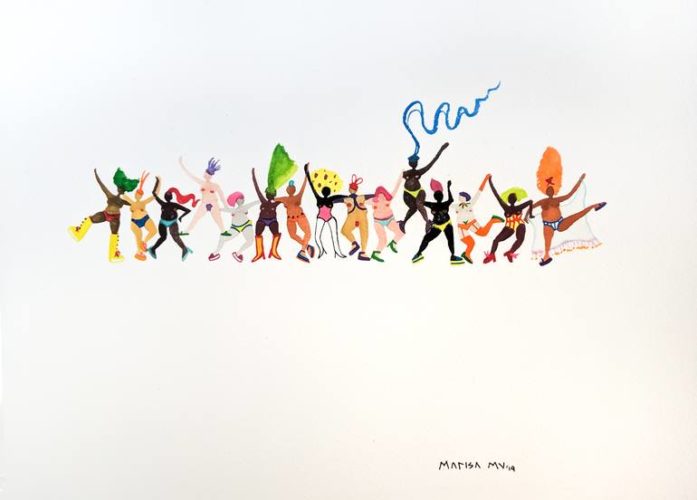 What does 2020 hold for you? 
I am a big dreamer and am so excited and prepared for what 2020 has in store for me. I have locked in several exhibitions throughout the year between Sydney and Melbourne but am also determined to do The Other Art Fairs in NYC, London and Toronto. 2019 was the most challenging and rewarding year of my life because I backed myself and committed to my painting full-time. I truly believe that I can achieve what I have sought out to do because I am willing to work hard and know that my art has a much bigger purpose outside of myself.
I would love to also do an artist residency outside of Australia to strengthen my practice and also connect with other like-minded creatives in a supportive and inspiring environment. Cross-cultural exchanges are something I value deeply so I am hoping to spend a month somewhere in a rural or coastal town in either the Americas or Europe where I can work on new bodies of work.
Can you give us something about yourself people might be surprised to hear?
I paint my best work when naked in the backyard.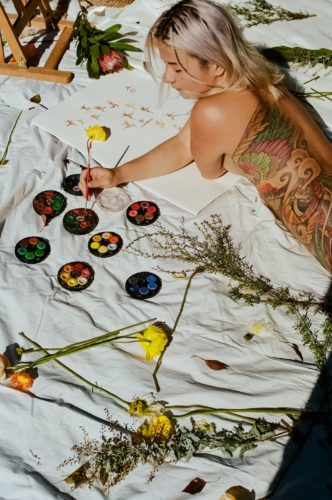 Introducing… The Online Studios – The Other Art Fair, delivered to you. A new online platform offering art lovers around the world access to over 800 Fair artists, The Online Studios will keep our community feeling inspired, engaged, and continue to spread joy through art.