Meet the Others: Maria Peña
The Game Changers. The Rule Breakers. The Innovators. Discover some of the fantastic emerging talent showcasing their work at The Other Art Fair.
Maria Peña is a Colombian visual artist currently based in Melbourne. She studied a Bachelor of Fine Arts with major in painting and ceramics at the Art School Academia Superior de Artes de Bogotá and Doctorate of Fine Arts by research at RMIT University, School of Art in Melbourne. Maria's career has developed between Australia and Colombia through solo and collective shows, artist in residency programs and specific projects.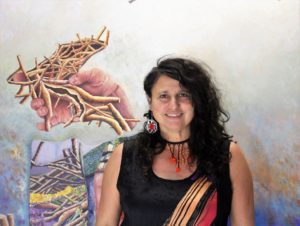 ---
Q&A with the Artist
Tell us about who you are and what you do.
 

What is your background?

Through my art I attempt to overlap images of past and present, offering traces to remember and imagine a new re-constructed home and identity. Themes of memory, absent- presence, sense of longing and myth have triggered my pictorial world and art concepts. My art has a strong influence from sub-realism ideas and referents from visual and cultural theory and my practice involves oil paintings on canvas, sculptural fabric pieces, mural paintings and installation projects.

My Art and collaborative projects have represented Australia more than once overseas: Selected by MC Gallery and Res-artiste exhibition "Show your World" to represent Australia in NY, 2018; Selected by BienalSur international Contemporary Biennial of Buenos Aires with Ventana Collective 2017; invited to make part of the Collateral Projects of the Art Biennial kochi muzaris, India, 2015; awarded one of the winners for the 2017 Endeavour Award Vitrina de Arte acknowledged by the Alzate Avendaño Foundation and Ministry of Culture in Bogotá. Colombia; and sponsored by Abu Dhabi Art Hub, to represent Australia for the Australian Art Month in Abu Dhabi, UAE 2013.
Can you walk us through your process for creating a work?
Generally I have an idea in my head that relates to a topic of identity and /or memory, I want to give a specific message. I start for writing down a narrative for the composition and how best I will achieve it to communicate my message. I look into my photos album for people, positions, specially faces, hands and also nature that I can use as a model. if I can't find it I ask people around me, my husband, my sister, my friends, or colleagues in the studio to let me photograph them as I need. I then start my sketch with the photos, pencils, scissors and real nature, Ex: leaves, trunks, flowers. My sketch is a collage. After I have design this sketch I get the canvas and start painting! I try to conclude at least 3 paintings in one month. My paintings have a lot of details and assemblages that I need to solve. I try to work in the 3 paintings at he same time along the month. I know when its finished when it comes alive, when its saying something to my eyes, when it reaches the significance in a specific detail that I need for the viewer to feel reflected in this painting.
How did you first get interested in your medium and what draws you to it specifically?
I first became interested in oil painting when I was pursuing my Fine Arts studies in Colombia. I felt very attracted by the endless possibilities to create my own colors and to evoke sub realistic scenes onto the canvas. I was highly influenced by the art of sub realistic artists such as Salvador Dali, Magritte and Remedios Varo. I felt a necessity to express the emotions of people in a dream like state. Hereby painting was the closer possibility that I encounter to depict poetic and somehow philosophical concepts of human existence, just as Francis Bacon; painter who inspired my first diptychs and triptychs and who I re-visited in order to develop my own style, my own narrative and to create my firsts paintings series.
Who are your biggest influences and why?
Francis Bacon and Lucien Freud, their compositions are very strong and existential. Their art evoke a narrative and a dramatic emotion that has inspired me from when I was an art student. Alejandro Obregon, a Colombian painter. His paintings are fresh and free. Even though I haven't deeply explored abstract art I feel enchanted with the way he used colors and forms, they recall the ocean, the nature and an incredible and intriguing passionate feeling. My art has also been strongly influenced by Magical Realism literature, Ex: Gabriel Garcia Marquez, Isabel Allende, Alejandro Carpentier among others.
What was the best advice given to you as an artist?
The advice that Afro-Cuban American artist Maria Magdalena Campos gives in her talks which is to find the emotion that comes exactly from your inside between your heart and your gut, to bring that emotion outside and materialize it through your art, to be aggressive, in a positive way, with passion, honesty and truth. To get distance from your comfort zone, to experiment, to create, to communicate and to be authentic.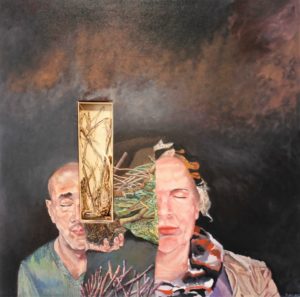 Shop artwork by Sabina and other trailblazing artists at The Other Art Fair's Online Studios.
Introducing The Other Art Fair Online Studios, a new online platform offering art lovers around the world access to over 800 Fair artists. The Online Studios will keep our community feeling inspired, engaged, and continue to spread joy through art.