Meet the Others: Marek Emczek Olszewski
The Game Changers. The Rule Breakers. The Innovators. Discover some of the fantastic emerging talent showcasing their work at The Other Art Fair.
Marek Emczek Olszewski captures the minimalist aspects of our environment that the naked eye wouldn't normally see. He has been selected to participate in multiple editions of The Other Art Fair in both London and Brooklyn and spoke to us about his process, inspiration and how the current lockdown has affected his practice.
Tell us about who you are and what you do. 
My name is Marek Emczek Olszewski and I am a fine art photographer. I am originally from Poland, but spent the last 14 years living and working in London.
As an artist I'm very much attracted to minimalism. In the majority of my pieces you can see a lot of vast, empty spaces, and tiny silhouettes – mainly humans. I want to show smallness and insignificance of human beings in face of endlessness of space and time. I attempt to create surreal worlds and to move viewer's imagination, evoke certain feelings and emotions.
If you only had three words to describe your work what would they be? 
Tranquil. Emotional. Symbolic.
How did you first get interested in your mediums and what draws you to them specifically?
I've got interested in photography in my early teenage years, when I bought my first, small compact film camera. I immediately became fascinated with the possibility of creating my own realities in the photographs. It was very satisfying and eye opening. I could take photos of well known places, but from a different perspective, and was often surprised with the results. So I continued to experiment, being more and more passionate about it.
Due to some personal circumstances, mainly moving from Poland to London, my creative interests were put on hold for several years. The passion came back to me in my late twenties, stronger than ever, and my professional journey began.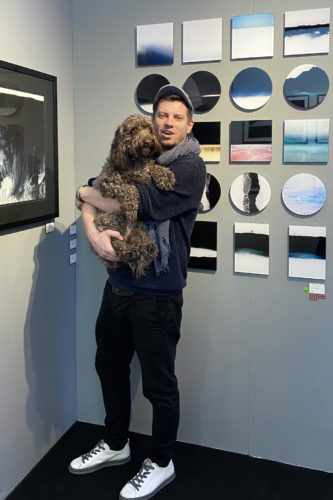 Can you walk us through your process? How long do you spend on one work? How do you know when it's finished? 
The first stage of my creative process is the idea in my head. It is the most important one. The ideas come to me very much on their own terms, most often totally unexpected. Sleepless nights are normally the most fruitful time for the visions to pop in my head. I get up and write them down to avoid the possibility of forgetting them – which happened to me several times. They are like sudden illuminations, and it's important to catch them as they go.
The second stage is trying to capture the ideas on my camera or my drone. Sometimes as one simple shot, sometimes as parts of more complexed, composite piece. That's probably the most exciting part of what I do, as it involves traveling and exploring unknown places. Traveling is one of my biggest passions, besides art of course.
The third stage is the post production. That stadium gives me a lot of creative freedom, as I can choose the final feel of my work, or to construct a composite images from the puzzles previously captured. It is very satisfying to witness the ideas finally coming to life.
The last stage is choosing the way to print and present my work. My favourite way is mounting my pictures behind thick layer of acrylic glass, leaving them frameless and free. It works very well with the minimal pieces with plenty of negative space. But of course I am open to different ways of presentation as well – it all depends of the picture itself, and the exhibition where it's going.
It's very difficult to say how much time I spend on one artwork, as certain parts of my process are simply uncountable. Taking a picture takes less than a second, but all the things involved in the creation take much much longer. Regular editing can take me as little as one hour, but some pieces, especially more complexed composites, may take up to few weeks. Sometimes my vision is adjusting or completely changing during the post production stage, which can add a lot of time.
When do I know when a piece is finished? I guess it's when I wake up next day, give it a look at my computer screen, and my initial reaction is 'yes'. Then I know it's ready to get printed.
Has being in isolation affected your work in any way? 
Yes, it definitely has. The biggest positive would be to have enough free time to start experimenting with different media – mixing my photographic work with paint, gold leaf and resin. It may be a start of a new exciting adventure. Once I've got few new artworks ready, I will definitely upload them to my Saatchi Art profile.
The biggest negative would be lack of personal contact with art fair audiences and other artists – few exhibitions were cancelled, and it's hard to say when things will get back to normal.
What is the best advice given to you as an artist?
Believe in yourself! Simple, but powerful and very important. I try to remember this every time I've got self doubt and think that I'm not good enough, or that being an artist is way too hard for me. I look back and see the bumpy road I've travelled, and where it led me. That makes me understand that it all makes sense, that I am good in what I do, and that I shall continue believing in myself, concentrating on every step to eventually achieve next goals. This is my journey and I love it.
Shop artwork by Marek and other trailblazing artists at The Other Art Fair's Online Studios.
Introducing The Other Art Fair Online Studios, a new online platform offering art lovers around the world access to over 800 Fair artists. The Online Studios will keep our community feeling inspired, engaged, and continue to spread joy through art.