Meet The Others: Liberté Grace
A brand new line-up of Artists are coming to Meat Market in Melbourne this May 26 – 29, including multi-media artist Liberté Grace.
Even when she was a teenager, Liberté Grace was making full-scale art installations that you could immerse yourself in.  Now she's working across Sydney, the US and Europe as filmmaker and contemporary artist, creating full-scale art installations and films which will have you thinking about alternative futures.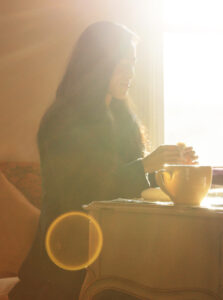 Liberté deals in new and imagined consciousness — if you're not sure what that means, perhaps imagine an alternate reality in which a dictator suddenly became enlightened.  How would that change the way the people under them relate to each-other and the world around them?  Would it change the way you perceive human potential?  These are the kinds of questions you might find yourself asking after viewing her work 'ÆTERNA ASCENSIO: The Eventual Enlightenment Of A Dictator'.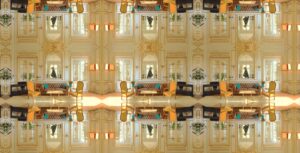 'ASCENSIO' follows on from her previous award-winning film, The Perfect Boy Myth, which transformed her personal perspective on deconstructing racism into a fictional narrative, referencing heinous socio-political movements in human history instigated by Adolf Hitler and the Ku Klux Klan. This new work explores the themes of redemption and the end of power; the 'enlightenment' of our darkest histories, through a new perspective of compassion and self-realisation. It takes us beyond the limitations of time, into a future not yet realised and proposes the notion: once one realises themselves as infinite and free, they shall move beyond the immature need to subjugate others in the name of power.
If video and time-based art has in the past felt a little intimidating, you're not alone.  A great many art-lovers find understanding and engaging with video works difficult.  Although all artwork is made by the artist with their own intentions, there's plenty of different ways to enjoy time-based works without being so focused on the artist's intention.  If you're struggling, try to engage with the work like you would a painting — notice the colours and shapes, is there a story emerging that you can start to put together?  If not, perhaps a mood?  Let your own experiences influence the way you engage with the work.  As Liberté Grace says, "I can't say what others will see in it because it's their consciousness which will dictate that perspective entirely".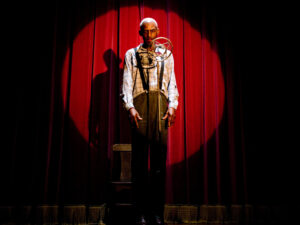 Film & Video can be a time-consuming process, and it can feel impossible to finish a work. Liberté Grace's first work, 'The Perfect Boy Myth' was created with 100 people from four countries and was largely self-funded. It took years, with her learning the ropes as she went, a feat of bravery that comes across in the work itself.
"I'm not interested in people's limitations around what is possible. What is possible is what we allow – it's for our imaginations to choose and for us to accept."
Liberté will also be bringing with her to the Melbourne edition of the Fair, one-of-a-kind images taken in Antarctica, depicting icebergs which no longer exist and have since melted due to climate change.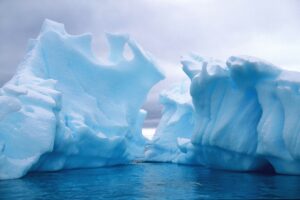 "These images are very close to my heart and represent a miraculous representations of consciousness I took as the winner of the Wallara Travelling Art Prize. I've never offered this collection for purchase direct to the public."
She is offering a limited edition of 20 per image only available at The Other Art Fair, Melbourne May 26 – 29, at Meat Market. Grab your tickets now to see these beautiful pieces in-person.
The Other Art Fair Melbourne takes place on the traditional land of Wurundjeri and Boon Wurrung people of the Kulin Nation.