Meet The Others: Kirsten Jackson
The Game Changers. The Rule Breakers. The Innovators.
Discover some of the fantastic emerging talent showcasing their work at The Other Art Fair.
Australian Abstract Artist Kirsten Jackson successfully portrays the relationships between colour, form and composition in her big, bright and bold paintings. An artist from a young age, Kirsten studied Visual Arts at the Royal Melbourne Institute of Technology before going on to have a successful art career. Internationally, Kirsten has had sold out shows in London and Singapore and has also exhibited her work in Hamburg, Amsterdam and Stockholm. Using all different types of paint piled in numerous layers, from watercolour to house paint, Kirsten says that 'the challenges of composition and palette are paramount when working in abstraction'.
How would you describe your art?
My art is colourful, abstract, happy, bright and full of energy.
What does making art mean to you?
Making art is very important to me it lets me express my love of colour and share with others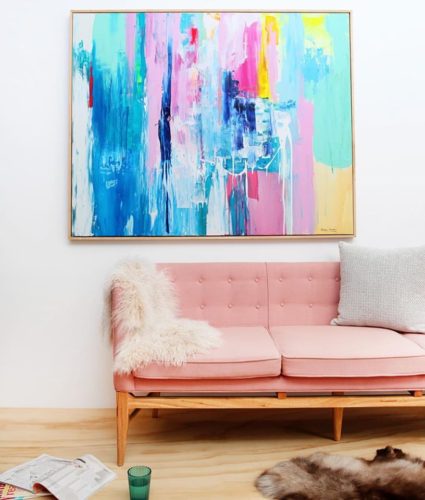 How did you get started making art?
I started in kindergarten 
What was it like to be a part of The Other Art Fair?
The Other Art Fair was fantastic as I got to meet collectors and new collectors and see how happy my art makes people 
What is your favourite piece for sale on your Saatchi Art Profile and why?
I don't have a favourite piece I love them all.