Meet The Others: Helga Leunig
The Game Changers. The Rule Breakers. The Innovators. Discover some of the fantastic emerging talent showcasing their work at The Other Art Fair.
Melbourne-based photographer Helga Leunig takes scenes of everyday life and turns them into works of art. Viewing her photographs is an almost meditative process, finding new aspects to the scene the longer you look at them. Helga exhibited her work at The Other Art Fair Sydney alongside 100 other artists in October 2016.
_
_
How would you describe your artwork?
I'd like to think that my work is quiet, still and calming, I try to create images that are peaceful and draw attention to the simple beauty in our ordinary and everyday lives.
What does making art mean to you?
My art is about gratitude and the miracle of being alive.
How did you get started making art?
When I was sixteen I saw an exhibition by the French photographer Henri Cartier Bresson, from that moment I wanted to be a photographer. The camera gave me an excuse to look carefully at life around me and notice the details.
What is it like to be a part of The Other Art Fair?
I enjoyed being part of the art fair because I was able to talk to people interested in art and to hear what they liked and why.  It was wonderful to connect to other artists and be inspired by their work.
What is your favourite piece for sale on your SA profile and why?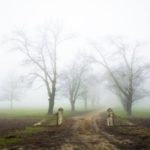 My favourite piece of work for sale on my SA profile is 'Perfect foggy day'.  I love curving paths and mist, it reminds me of life itself, we don't know what's around the corner, it's a mystery.
Interested in taking part in The Other Art Fair? Applications are open for The Other Art Fair Melbourne.