Meet the Others: Evy Meehan
The Game Changers. The Rule Breakers. The Innovators. Discover some of the fantastic emerging talent showcasing their work at The Other Art Fair.
The Other Art Fair artist Evy Meehan's geometric paintings are inspired by her background in architecture. Evy's skillful use of colour captures reflections, refractions and shards of light in her compositions.
Tell us about who you are and what you do. What is your background?
I was born in Poland. I graduated from The University of Szczecin in Poland, with Master's degree in Architecture and Spatial Planning. After that I came to London in 2006 to experience working in large practices like RTKL Ltd. and TP Bennett before taking to art full time.
Ever since I remember art has been a big part of my life. I learned the basic technique of drawing at Art Academy in Poland.
If you could describe your work in 3 words, what would they be?
Architectural, dimensional, graphic.
How did you first get interested in your mediums and what draws you to them specifically?
I use acrylics on canvas. The fact that they dry very fast was what's drawn me to them. I am very impatient  with my art so if I have an idea in my head I would like to translate it on to the canvas immediately.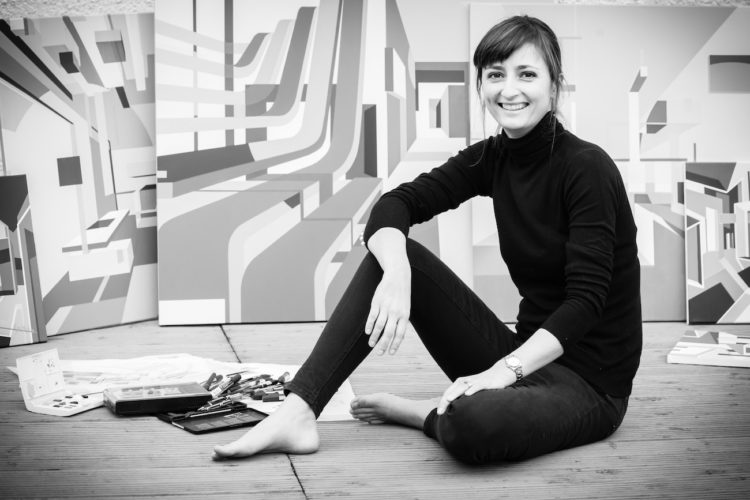 Can you walk us through your process? How do you know when an artwork finished?
First I chose my colour pallet and that determines what 'feel' the painting will have. I usually work on just one painting at the time. My first step is to place few simple shapes to achieve 3D feel and depth which draws me in.
I listen to the music. I don't have particular style, it could be classical, pop, musicals. It distracts me so I don't overthink my next move.
Most of my paintings are inspired by contemporary architecture or interiors. I always look for new projects featured on Instagram and save them to my 'creative bank' so I can flick through it from time to time when I am stuck.
I am never 100% sure when the painting is finished. It takes some time. I always spend hours looking and going back to it. There is always that risk to overwork it, and that's why I take my time.
Has being in isolation affected your artwork practice in any way?
Positive: I can't wait to go back to painting full time once my children are at school. I have lots of new ideas and I feel very rested and fresh minded.
Negative: The Other Art Fair in London and Brooklyn were both postponed and I was really looking forward to it.
What is the best advice given to you as an artist?
Never give up, carry on and believe in yourself. Be confident.
Shop artwork by Evy and other trailblazing artists at The Other Art Fair's Online Studios.
Introducing The Other Art Fair Online Studios, a new online platform offering art lovers around the world access to over 800 Fair artists. The Online Studios will keep our community feeling inspired, engaged, and continue to spread joy through art.