Meet the Others: Carrie Jean Goldsmith
The Game Changers. The Rule Breakers. The Innovators. Discover some of the fantastic emerging talent showcasing their work at The Other Art Fair.
The Other Art Fair London exhibitor Carrie Jean Goldsmith layers oil paint to create both abstract and loosely representational artwork. She is influenced by her surroundings and her own physical and contemplative state. Here Carrie speaks to us about her background, process and her best snippet of advice for fellow artists.
Tell us about who you are and what you do. What is your background?
I'm Carrie Jean Goldsmith, Canadian born but living and working in the UK. My parents were also born in Canada, both to immigrant parents; British on my father's side and Hungarian on my mother's. It's the mystery of my maternal grandmother's life that has gone some way in informing my work; the palette and ambiguousness. She never wanted to discuss her past as she just wanted to fit in so, of course, I was extremely keen to glean what I could from her.
Long before studying and working as an artist I worked in the music business. Music is another passion of mine and I occasionally reference it in my titles.
I'm an expressionistic painter, working intuitively and gesturally but with an element of consciousness keeping me grounded and focussed.
If you could describe your work in 3 words, what would they be?
Palette, Intuition, Expression
How did you first get interested in your mediums and what draws you to them specifically?
I began my practice using acrylics because oils always seemed more complicated, however, I soon realised the joy of oil paint and the ability to manipulate it. I now have a practice where I incorporate many different mediums from acrylics and oils to charcoal, oil pastels, coloured inks etc.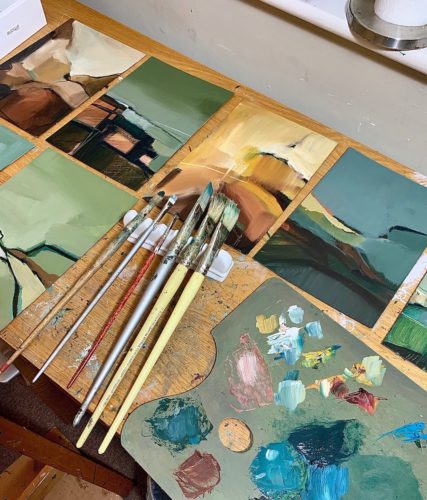 Can you walk us through your process? How do you know when an artwork finished?
This is such a good question! When I look at the pieces I'm most happy with, they have all involved a moment where everything hung in the balance and if I had made one more mark I would have ruined it. Knowing when to down tools is so key and I'm still working at this all the time. 'Tweaking' never ends well for me; I have to go hard or go home and if it doesn't work out, it's time to move on. It's not that every finished piece is the result of swift strokes and serendipity, there are times when I need to wait for a painting to dry while I get on with other pieces and then I'll come back and add maybe 3-4 final strokes, just to finesse it. What I try not to do (anymore) is torture myself over something that is 'almost there' but not quite working. When this happens, I find it's best to either start again or walk away and come back with fresh eyes.
The number one question I ask myself with every painting is "do I want this?", literally, would I want this painting myself and if the answer isn't a resounding 'yes!' then it's not good enough.
Has being in isolation affected your artwork practice in any way?
To be honest, when lockdown first hit, I was pretty gutted as I felt like so much momentum was going to be lost but it has turned out to be an incredibly positive and productive time and, to be honest, I've loved being able to paint all day, every day. My routine in non 'unprecedented' (oh how I hate that overused word now!) times is not much different to lockdown. The thing I have really missed in relation to my practice, though, is going to exhibitions as I find it incredibly enriching and inspiring.
I've been involved with the Online Studios which has been a great success plus I've taken part in the Artist Support Pledge which has been incredibly positive.
What is the best advice given to you as an artist?
The best advice I've received wasn't so much advice as something I read in a snippet from an Ivon Hitchen's sketchbook many years ago. He mentioned the need for variation in line, direction, colour and the fact that he could recognise when something wasn't working. This is in my head whenever I paint and I regularly take moments to consider it.
Shop artwork by Carrie Jean and other trailblazing artists at The Other Art Fair's Online Studios.
Introducing The Other Art Fair Online Studios, a new online platform offering art lovers around the world access to over 800 Fair artists. The Online Studios will keep our community feeling inspired, engaged, and continue to spread joy through art.