Los Angeles: Sleeved Out with Radical Kinship
Homeboy Industries' Art Heals returns to The Other Art Fair Los Angeles with Sleeved Out With Radical Kinship.
This interactive art experience invites fair visitors to view letters and artwork from previously incarcerated and formerly gang-involved adults. Homeboy's Art Therapist Laura Miera offers materials to up-cycle Home Girl Cafe coffee sleeves into mini-letters to keep or send back to the community. Home Girl Cafe, where "the main meal is tenderness", according to Founder Father Greg Boyle, is one of the many social enterprises of Homeboy Industries, The Other Art Fair's non-profit partner.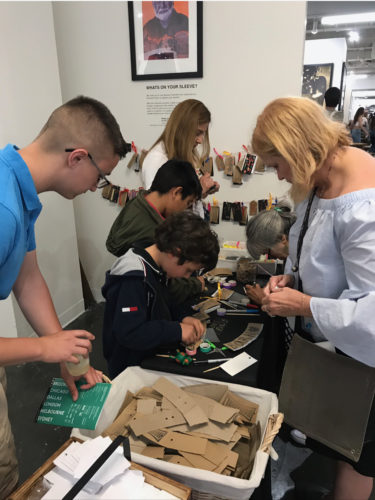 The iconic Boyle, inspiration to Shepard Fairey's "Radical Kinship" print available at the Homeboy booth, writes that, "It's connection and kinship that ultimately heals people."  It's this notion that the Art Heals activation offers, a widening of the circle of kinship through the act of receiving and creatively responding to the powerful images and words of those looking for healing at Homeboy Industries.
Work from Art Heals, Homeboy Art Academy's Fabian Debora and others will also be available in support of Homeboy Industries at their booth.
The letters to Father Boyle are courtesy of Homeboy Industries Records, 24, UCLA Chicano Studies Research Center, University of California, Los Angeles.
This activity is funded in part by the California Arts Council, a state agency, and its Reentry Through The Arts program, a holistic approach to support adults re-integrating into and contributing to their communities.

The Other Art Fair Los Angeles is happening September 5-8th at Barker Hangar in Santa Monica.  Click here to book tickets!