London: 'Unmissable' An Exhibition of Portraits of Missing People
Exclusively at the Spring 2019 edition of The Other Art Fair London, UK charity Missing People and curator Ben Moore are producing a unique exhibition featuring portraits painted by emerging and established artists to raise awareness of missing people.
The series of poignant new portraits will be unveiled at the fair to mark the 25th anniversary of The Other Art Fair Charity Partner, Missing People. The exhibition is curated by Ben Moore, whose brother Tom has been missing since 2003. Participating artists include Charming Baker, Samira Addo, Ian Bruce, Nina Mae Fowler, Will Teather, Amy Shuckburgh, Chris Moon, Carne Griffiths, Mark Metcalfe, Rebecca Fontaine Wolf and Paul Benney.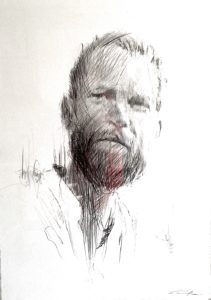 The exhibition will include a new portrait of Richard Edwards, former guitarist and lyricist of the Manic Street Preachers, portrayed by British artist Will Teather. Edwards we last seen on the 31st January 1995, when he checked out of the Embassy Hotel, Bayswater, London. On the 17th February his car was discovered in the car park of the Old Severn Bridge. These are the last known facts surrounding his disappearance. Often cited as a leading lyricist of his generation, Richard Edwards' disappearance attracted mass media attention but to no avail. As of February 2019, he has been missing for 24 years.
Rachel Edwards, sister of Richard, comments,
"For the last 24 years I have lived in hope of solving the mystery of what happened to Richard. I am desperate for news as to his fate and am appealing to the public to help me. I hope the exhibition will be a poignant and effective way of raising awareness for Missing People, a charity that has and continues to support my family and I for almost 25 years. I'm so pleased that the money raised will go towards helping them to continue to be there for others like me and will shine a light on all missing people, and their families, and hopefully bring us some answers. This is Richard posing as the bold and vivid performer, yet at the same time the artist captures a sense of his vulnerability."
The portrait of Edwards and the other Unmissable works will be exhibited for the first time at The Other Art Fair, 14-17 March 2019 at The Truman Brewery. They will also be available to bid on via the Paddle8 auction site, with all proceeds going to the Missing People charity. Prices for the original works start at £2000 with framed limited edition prints available at £250. Will Teather's portrait of Edwards has a reserve price of £3500. 
Book your tickets for The Other Art Fair London, 14-17 March, the Old Truman Brewery online now.