London: The Other Private View Project
Exclusive to the Autumn 2017 edition of The Other Art Fair London ( 5 – 8 October, Truman Brewery), the team are delighted to present a collaborative Private View invitation with one of the fair's promising emerging artists. For this special Private View project, fair artist Gino Belassen was invited to produce a unique response to the fair's ethos in presenting 'The Other'.
Gino Belassen is a visual artist and graphic designer based in Phoenix, Arizona, USA. His work derives from a deeply rooted affinity with minimalism and abstraction – a process he refers to as "Subtle / Sound".
"Subtle / Sound is something I came up with to represent the idea of conveying a message or story with as little clues as possible. As a minimalist at heart, I aim to do just that in my work. I love keeping things mysterious, or at least not overly obvious"
Gino's concept for this Autumn's featured collaboration entitled 'Coverboy', was inspired by one of his previous artwork's which featured a figure diving into water. Motivated to create a work which conveyed the story of an "emerging artist", the end result is a uniquely constructed artwork representing what it is to be one of 'The Others'.
Gino's approach to his artistic practice is influenced by his background in graphic design, and much of his collective work adheres to a similar process and aesthetic. His graphical use of typography and symbology is ever present in 'Coverboy', as the figure emerges out of the "blue" to become the T in the word "Other", and a game of tic-tac-toe in the bottom-right corner represents the competitive nature of progress.
Gino ruminates on the idea that " The onlookers in the bottom-left corner fill the role of the witnesses to one's rise, or perhaps the jealous "haters" praying for their demise"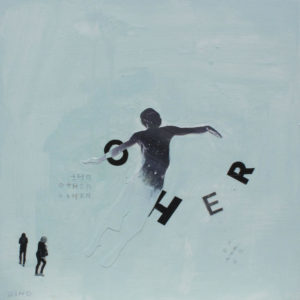 Gino's 'Coverboy' has been especially created for the Private View Invitation and Fair Guide for London's Autumn 2017 Edition. The original design can be purchased directly from Gino, and will be sold exclusively as limited-edition prints at The Other Art Fair, London.
The Other Art Fair returns from 5 – 8 October 2017 to East London's iconic Truman Brewery. Presenting 130 of the best emerging artists handpicked by a committee of art industry experts, the fair is a chance for all art lovers to meet and buy directly from the artist themselves. View the fair's Autumn Programme or scroll through the artist exhibitor list to plan your visit to the fair.