London: The Mandrake's 5 Must See Artists at The Other Art Fair
Nestled in the heart of Fitzrovia, you'd be forgiven for walking straight past the newly opened Mandrake whose unassuming exterior belies an eclectic and art-filled hotel within. Owner Rami Fustok's passion for creativity can be felt throughout, with myriad artworks adorning the walls – each piece carefully selected and placed according to the space and atmosphere desired. Keen to celebrate emerging talent as well as the more established names, the art is not confined to canvas alone – the hotel's Artist in Residence program sees ballet dancers, tattoo artists and sculptors all taking centre stage to create an exciting and engaging cultural mileu. Following on with this ethos of celebrating emerging talent, Rami Fustok has selected his 5 Must See artists at The Other Art Fair London.
Marcelina Amelia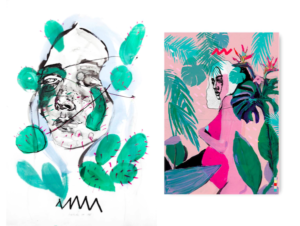 Marcelina Amelia is a UK based Mixed-media artist who is originally from Poland, Czestochowa – the city famous for Catholic Pilgrims. Marcelina's designs are a mixture of lustful darkness and adolescent innocence and her inspirations come from Catholic Iconography, childhood memories, dreams and beauty. See more of Marcelina's work.
Victoria Topping

Victoria Topping blends her appreciation of spirituality, the cosmos, global cultures, and her love of music into her vibrant graphic prints. See more of Victoria's work.
Carolina Mizrahi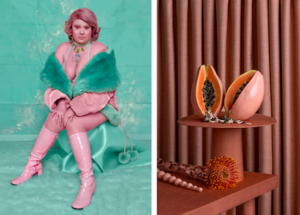 Caroline Mizrahi was born in Rio de Janiero, Brazil, lives and works in London, United Kingdom, and was educated at London College of Fashion. See more of Carolina's work. 
Bridget Davies
Bridget Davies uses the genre of fashion painting to create scenarios and characters that she would describe as visual anecdotes, blended fact and fiction that tell secret stories drawn from her own presence and desires. See more of Bridget's work. 
Kerry Eggleton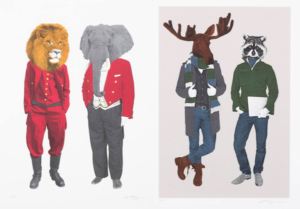 Intrigued by anthropomorphic animal forms forms Kerry Eggleton creates contemporary characters in the style of a Victorian engraving, harking back to the golden age of the British circus. See more of Kerry's work.
The Mandrake Hotel is part of Chic Retreats' collection of small and charming boutique hotels. For more unique stays, see chicretreats.com