London: The CALM Art Collective x The Connor Brothers
This March, we are excited to be welcoming back Charity Partner CALM as we continue to support the CALM Art Collective, and this year they're joined by The Connor Brothers on this artistic and wellness journey.
The renowned artist duo will be curating and selecting this year's showcase of work in which we ask creators to submit work around the idea of 'the journey', including an object that has inspired them.
The Collective is a creative space for all types of artists and art lovers to chat, collaborate and inspire each other. It hopes to get as many heads and hands as possible around ideas and provocations, all in the aim of pushing forward conversations on mental health and self-expression.
Each artwork sold will make a donation to CALM.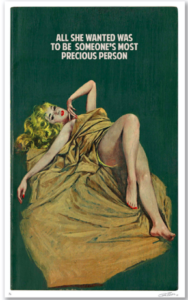 The Connor Brothers – Mike's Story
Using the object as inspiration for the exhibition is particularly prevalent for Mike Snelle, one half of the duo The Connor Brothers. The work featured here was inspired by a small carved wooden mushroom, an object his dad made for his mum which stuck with him throughout his childhood, despite moving frequently moving house.
"When, several years ago, my Dad died, Mum gave me that mushroom. She also told me that although her grief was impossibly painful, she actually felt incredibly lucky, because all she had every wanted was to be someone's most precious person, and for the thirty years she was married to my Dad, she had been. To me that mushroom is a reminder of my Dad's love for my Mum and, along with her words, it inspired this picture." Mike says.
Click here to hear more about this project from The Connor Brothers themselves.
The Workshops: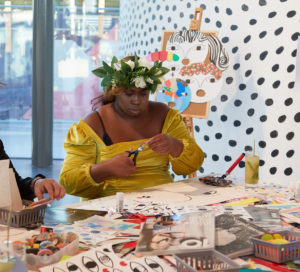 COLLAGE CLUB – Saturday 21 March, 2-4 pm
Join the Collage Club for a drop in session of collage fun! Embracing the hands-on technique and using scissors as a drawing tool, Collage Club enables you to get making without having to produce perfectly proportioned, in-the-box drawings. So if you're keen to flex your creative muscles, this workshop is perfect for you.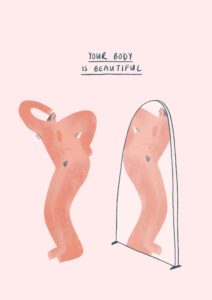 ROSI TOOTH – Sunday 22 March, 2-4pm
Posing the question 'Things I'd Tell My Younger Self', illustrator Rosi Tooth joins us for a therapeutic and reflective workshop. Be inspired by her playful light hearted illustrations promoting body positivity and healthy minds and create your own self-portrait with words of advice.