London: The CALM Art Collective Workshop Series
We are so proud to be working with our Charity Partner Campaign Against Living Miserably (CALM) again and continue spreading the word about the CALM Art Collective at the Autumn edition of The Other Art Fair London (3-6 October, Victoria House). 
The CALM Art Collective aims to bring together artists and art lovers to explore life issues, wellbeing and mental health through the medium of art, building a supportive community online and in the real world. At the upcoming edition of the fair, CALM will be hosting a series of workshops in their dedicated CALM Art Collective space within the fair to encourage visitors and amateur artists to get involved and get creating.
THURSDAY, 6-9 PM
PINK & HANCOCK EMBROIDERY WORKSHOP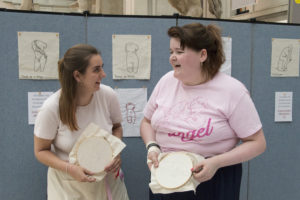 Enjoy the therapeutic benefits of embroidery, whilst Pink & Hancock help you embroider something you'll be proud of! With all items supplied, just bring yourself along for a relaxing time!
Artist duo Pink & Hancock blossomed from an innocent insta DM complementing Sammy's work, and within the past 2 years, have since done multiple art swaps, ate lots of chips & hummus and hosted many embroidery workshops together, ranging in places from Tate Modern to The British Museum.
They have a mutual love for embroidery, activism towards mental health and women's rights and have a passion for making embroidery more accessible; whether its a financial issue, language barrier or skill level – they strive to have your back!
FRIDAY, 6-9 PM
POSTER COLLAGE WITH NAOMI VONA
Naomi's work combines different interests like photography, collage and illustration. Her research is focused on altering vintage and contemporary found images, creating a new interpretation of the original shots. Using pens, paper, coloured tape and stickers she gives to every image a new life.
Join Naomi Vona for a drop in session of collage fun! The event will be focused on altering by hand vintage print portraits on a large scale, or bring your own photograph or print to reimagine in Naomi's style!
SATURDAY, 2-5 PM
BENJAMIN THOMAS TAYLOR : DIY SCREEN PRINTING (£5 per person)
Armed with an old table top, a vacuum cleaner and some very inky fingers, artist Benjamin Thomas Taylor will demonstrate how to create your own DIY screen printing set up, whilst guiding you through making your very own limited edition screen print.
Benjamin Thomas Taylor is known for his bright, Pop Art inspired landscapes. Fuelled by a sense of joy, his detailed paintings and prints open up hyperreal spaces, crossing from reality into a parallel world of limitless possibility, full of colour and creation. Having studied painting at the University of Brighton, he has since gone on to exhibit with a number of galleries both in the UK and internationally.
Two sessions (2pm – 3.30pm | 3.30pm – 5.00pm)
BOOK YOUR SPACE HERE
SUNDAY, 2-5 PM
"THIS IS THE REAL ADVENTURE ISLAND" WITH GOMMIE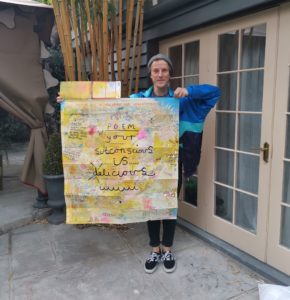 Come and be part of a largescale visual poem with Gommie. Ask your country a question, share a secret, scribble without thinking. Gommie needs your words on his island.
CALM Art Collective Ambassador Gommie is currently on a 365 day artistic pilgrimage walking around the edge of England. Follow his journey and find out more @myofflinecommunityofone
CALM Art Collective: '4 in 4'
It's often cited that 1 in 4 people will experience a mental health issue but CALM believes that 4 in 4 of us will struggle at one time or another. CALM has an Open Call out for artists to submit artworks based on this statement. The artworks will then be displayed and on sale at the October edition of the fair with all proceeds going directly to support CALM. If you are interested in submitting an artwork, or you would just like to register to be a part of the collective, you can find out more information here.