London: Presenting The Illustration Corner
Following our ethos of the 'Other', we strive to present a unique visitor experience designed to delight and inspire art lovers with a tightly curated and distinctive programme of fair features. At The Other Art Fair London this Spring 2019, we present the 'Illustration Corner' where each day will feature a new artist-in-residence creating bespoke illustrations for our visitors. Here's who we have lined up:
Charlotte Ager – Thursday 14th March – 'Drawing Your Story'
Charlotte Ager is a Freelance illustrator based in London. She is drawn to the poetry in everyday experience and the ways in which people create narrative in spaces, both real and imagined. Drawing is at the centre of her practice and provides constant reflection and understanding of the world.
Tell a story and in return have it drawn right before your eyes. Come up with a tale of any kind either on your own or with friends (the more imaginative and fantastic the better) and have it translated into a personal illustration for you to keep. Silliness encouraged!
Rachel Hillis – Friday 15th March – 'Rachel's House Plant Portraits'
Rachel Victoria Hillis is an illustrator based in Liverpool, UK, specializing in editorial illustration with a botanical twist. Rachel's passion for greenery is evident throughout her work, where you can often find unusual houseplants or tropical jungle scenes. During her MA degree, Rachel's major project focused on the importance of urban green spaces and how being surrounded with plants can support positive wellbeing.
Participants can have their favourite house plant painted for them and will be given the signed miniature paintings at the end of the session. 1 on 1 basis, the paintings will be made on A5 size watercolour paper and will come with a free illustrated postcard with their name on the back.

Benjamin Phillips – Saturday 16th March – 'Ceramic Sketches'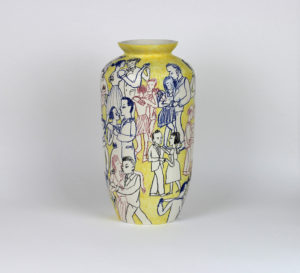 Benjamin Phillips works in a wide range of different mediums, straddling the disciplines of fine art and illustration. Benjamin finds inspiration in human interaction, the humour and turmoil of everyday life and the joy of repetition. From his studio in Hastings he creates, ceramics, drawings and paintings for a range of commercial and personal projects. His debut graphic novel Peanutborough Cucumberland was published by Log, Korea and he has worked for clients such as The New York Times, Ebury Press, The Jerwood Gallery and Wichita Records.
At The Other Art Fair Benjamin will have a range of his vases and ceramic pieces on display and will be hand-painting bespoke cardboard vases for visitors of the fair to take home.
Erin Aniker – Sunday 17th March – 'Protest & Power' Poster Workshop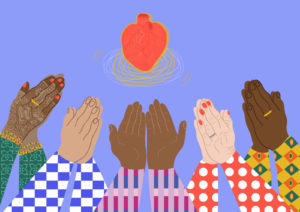 Erin Aniker is an Illustrator and Designer based in London, UK. She draws inspiration from the inclusive community she's grown up with in London, her dual Turkish and British heritage and travelling. Alongside her personal work, she enjoys creating illustrations and designs for use in editorials, books and advertising, for both print and online platforms. She has worked with The Washington Post, The Body Shop, The Huffington Post, Vice, Broadly, Stylist Magazine, The Design Museum, The Barbican x Stance Podcast, Refinery 29, Camden Roundhouse, The Wellcome Trust, The Pool and Grazia amongst many others.
Illustrator Erin Aniker will be leading a 'Protest & Power' poster workshop encouraging you to create and take home your own feminist poster design! The workshop is open to all drawing abilities and there will be a variety of black and white poster templates featuring Erin Aniker's illustrations of feminist icons for less confident drawers to embellish using provided art materials. The poster templates include illustrations of renowned feminist activists such as Malala Yousafzai, Angela Davis, Gloria Steinem, Tarana Burke, founder of the 'Me Too' movement, Trans Model and Social Activist, Munroe Bergdorf and Trans activist and author, Charlie Craggs, amongst others. There will also be blank poster templates for more confident drawers to fill with their illustrations and personal feminist icons. You can choose to take your poster home with you, gift it to a friend or hang it up as part of a poster wall art installation which will be part of the drop-in workshop at the fair.
Book your tickets for The Other Art Fair London, 14-15 March 2019 at the Old Truman Brewery.