London: Live for Love Installation
Presenting the Live for Love installation at The Other Art Fair London 4-7 July. Coming all the way from Sydney, Australia via Pride in New York, Live for Love is a celebration of love. It's for all people, all ages, all races and all sexualities. It's big, bold and an explosion of colour and form and it's a work that brings people back home to their hearts.
About
Live for Love, edition 1, was first created for Sydney Gay and Lesbian Mardi Gras and the City of Sydney, to celebrate 40 years since the revolutionary street party turned riot  in 1978. Less than ten years after Stonewall in New York, this protest march catapulted Australia's fight for equality into the main political and social agenda.
"The work is many things, it tells us about the good times, and the bad times, about how diverse our community is, but most importantly it is about celebration." Matthew Aberline

Iconography
The work uses a series of icons to tell its story – the butterfly for freedom, the gender diversity symbol, the pink triangle for repression, the AIDS ribbon for adversity, the heart for love, and a special Aboriginal symbol designed by artist Lawrence Shearer – for Inclusion.​
"The symbol "Inclusion" is about a water hole where there is good fishing, where everyone is welcome to gather around the camp fire and dance." Lawrence Shearer
The Goldberg Aberline Studio (GAS)
GAS was formed by Maurice Goldberg, an architect, and Matthew Aberline, a film and entertainment designer. Together they decided to pool their collective industry knowledge and create immersive art experiences that engage viewers by creating happiness and a sense of awe and fun. Due to the exuberant nature of their work, their engagement is truly multi-generational and has been the focus of research into Adults and Play by The Centre for Creative and Cultural Research at Canberra University.
GAS is a multi disciplinary studio, their various major works being linked by a love of engineering, intricate design and being a nexus between the hand crafted object and digital processes. They are fascinated by natural processes and the themes of evolution, regrowth, metamorphosis, and mutation.
They have created work for VIVID, American Express, Jimmy Choo, the Australia Council, the City of Sydney, Sculptures by the Sea, 50 years of Pride New York, and Pride in London.
Without their support, Live for Love would not have made it to London:
Sydney Gay and Lesbian Mardi Gras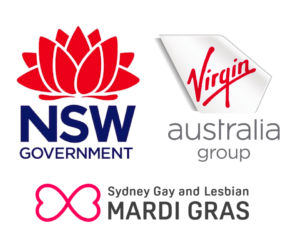 Book your tickets for The Other Art Fair London online now. 4-7 July, King's Cross.