London: Introducing Selection Committee Member Dario Illari
We are thrilled to unveil our esteemed Selection Committee for the upcoming edition of The Other Art Fair London . These members of a globally significant art community set the high standard of the fair, ensuring you can buy from our artists with the confidence that you are investing in the very best of emerging talent.
Dario Illari founded Jealous Gallery and Print Studio in 2008. From their humble beginnings in Crouch End, over the past 10 years, Jealous has expanded to 3 gallery spaces and 2 floors of screenprint Studios in Shoreditch.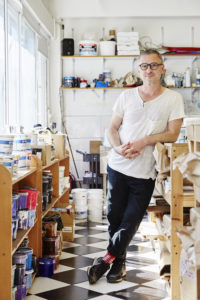 Known for their experimental and collaborative approach, the Studio have worked with artists such as David Shrigley, Jake & Dinos Chapman, Gavin Turk, as well as galleries and museums such as ICA, Tate and the Victoria & Albert Museum. The Galleries show the editions produced within the Studios, as well as 4 weekly exhibitions by a range of emerging, mid-career and established talent.
The Other Art Fair will return to Victoria House in Bloomsbury from March 22nd – 25th 2018. Tickets for the fair are now live and for more information about the fair program visit theotherartfair.com