London: Gary Baseman Brings his Purr Room to The Other Art Fair London
Following his Guest Artist appearance at The Other Art Fair Los Angeles in 2018, Gary Baseman is crossing the pond and bringing his Purr Room to London from 14-17 March 2019.
The Purr Room is an immersive art installation inspired by Gary's animal companion and best friend, Blackie the Cat, who has been in his life for a dozen years. Blackie is Gary's sage, muse, and guru; a magical, mystical talking cat with a special triple purr that is deep, resonant, and grounding.
"Living in this time of great stress and anxiety, I felt compelled to share with the public Blackie's gift through this art experience at The Other Art Fair. Blackie the Cat has inspired important characters and themes in international exhibitions of mine, like ChouChou, who takes away negative energy and hate in 'I Melt in Your Presence' as well as 'Hide and Seek in the Forest of ChouChou', and Ahwroo from 'Vicious', who draws blood when he wants attention and affection."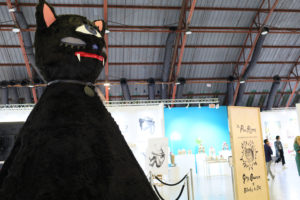 Baseman explores the "beauty of the 'bittersweetness' of life" through painting, performance, illustration, toy design, film, and fashion. He is known for the humorous and sometimes devious characters woven throughout his work, which has been seen and exhibited around the world and includes the BAFTA and three-time Emmy Award-winning ABC/Disney cartoon series "Teacher's Pet." He also created the visual identity of the best-selling board game Cranium, has collaborated with COACH, and has an animated documentary feature currently in the works called Mythical Creatures.
Experience the Purr Room and purchase a Gary Baseman print at The Other Art Fair London, the Old Truman Brewery 14-17 March 2019. Book your tickets for the fair online now.