London: Full Circle by Beccy McCray
Are you snowed under with waste..?
'Full Circle', is a playful and physically immersive interactive installation artwork created by Beccy McCray, first commissioned by the O N C A Gallery in Brighton. It simulates snow by filling a greenhouse full of tens of thousands of reclaimed 'hole-punches' (the tiny, circular pieces of paper collected by hole-punchers which we usually discard). It is a reflection on consumption, the vast amounts of waste we generate and the impact that this has on our fragile environment.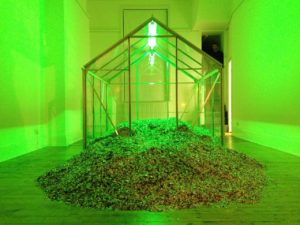 To provoke a shared sense of responsibility many of the hole-punches were made from used, un-recyclable wrapping paper (i.e. anything shiny, which means it has a high foil content) sourced over the festive season from the Brighton community. This participatory aspect of the artwork aims to connect feelings of self-expression and excitement to sustainability and resourcefulness instead of waste.
By reinventing the unwanted ephemera from our lives we can give things we normally throw away a new lease of life. Full Circle shows that beauty can be found in unexpected places.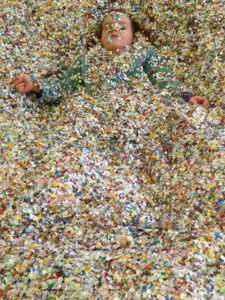 All of the hole-punches that would have otherwise been rejected are bagged up for the next exhibition, given back to the local community or re-packaged for arts and craft use; bringing the lifecycle of the paper full circle and allowing the project to continue its evolution.
'Full Circle' by Beccy McCray will be at The Other Art Fair London, 14-17 March at the Old Truman Brewery. Book your tickets for the fair online now.