London: Calling All Graduates! Apply for London Futures
Are you a recent art graduate? Have you graduated in the last 4 years? 
To celebrate our partnership with Central St. Martins at our upcoming 4-7 July London fair, we're thrilled to present London Futures! We're offering 8 recent graduates the chance to exhibit at The Other Art Fair London Summer 2019 as part of a special feature space curated by Fair Founder Ryan Stanier.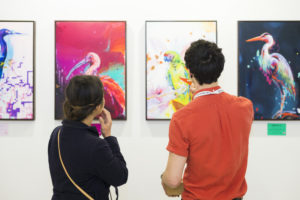 The Other Art Fair was born from a realisation of the disparity between a London audience eager to discover the next big thing and talented artists struggling to gain recognition. Now in partnership with world renowned online art gallery Saatchi Art, The Other Art Fair has grown to be presented in 7 cities across the world. We understand that participating in the fair is a large financial commitment that not all artists can afford, which is why we want to provide this unique opportunity for recent graduates. The fair is an invaluable platform enabling independent emerging artists to personally showcase their work to an entirely new network of collectors, gallerists, critics and first-time buyers.
"Exhibiting at The Other Art Fair changed my life! It was the first time I'd exhibited my work and within 2 years I was making a living from my art and exhibiting with galleries around the world!"
– Benjamin Thomas Taylor, The Other Art Fair London 2016, 2017, 2018
What will you get?
5m stand (1m x 3m x 1m) at the fair in The Crossing, King's Cross from 4-7 July 2019 for the discounted price of £825 + VAT (40% off standard price of £1375 + VAT)
Exclusive welcome talk with Ryan Stanier and advice during set up
One-on-One session with a Saatchi Art curator onsite at the fair
A highlight in The Other Art Fair's marketing and PR campaign
One news article feature on the joint Saatchi Art and The Other Art Fair blog CANVAS
Artist Profile included on saatchiart.com/theotherartfair
Apply now
Send your CV, artist statement, 4 images of your work, the idea for your stand, your university degree and graduation year to jessica@theotherartfair.com by Sunday 2 June 2019