London: Art+Believe Take the Floor in Alexandra Palace
In 2017, Dan and Charlotte Doherty who make up the brilliant creative duo Art+Believe were commissioned to design the entrance installation for The Other Art Fair London at the Old Truman Brewery.
Based in Brighton, Art+Believe's bright, bold and geometric artwork takes inspiration from their global travels. Beginning from painting large scale urban murals all over the world, they have since gone on to paint tower blocks, rooftops, stairwells, bus stops and bendy buses. After being approached at The Other Art Fair, the duo were asked to take on an enormous permanent project in London's historical Alexandra Palace.
Having just undergone an extensive renovation, Alexandra Palace's East Court was in need of a burst of colour… Cue Art+Believe's Above and Below…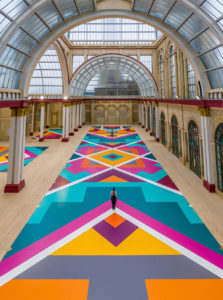 Spanning 1200sqm of the East Court floor, this expansive handpainted artwork transcends over 4 separate spaces to make 1 complete artwork. Of the project, Charlotte and Dan say:
"When we were introduced to this project one of the most exciting elements was the history of Alexandra Palace and the fact that throughout history it has always pushed boundaries and taken risks through art, music, theatre and dance, pioneered by the Victorian spirit. So we had to create an artwork that was bold, fresh and exciting, taking inspiration from the past but creating for the present"
We got back in touch with Charlotte and Dan to ask about their experience at the fair and what else they've got in the works.
"Since The Other Art Fair we have been working on lots of large scale artworks around the world.  Recently we have created a limited Edition Beer label for Becks as part of their Be Kreativ campaign. Looking ahead we have lots of fun projects planned for next year but we really want to say a massive thanks to The Other Art Fair for supporting us."
Visit 'Above + Below' in the East Court at Alexandra Palace, London, N22 7AY. Open daily from 10am.