London: Announcing Laurie Vincent as Guest Artist
The Other Art Fair London is thrilled to finally announce that Laurie Vincent will be the Guest Artist for the 2019 Autumn edition from 3-6 October at Victoria House. 
Alongside his talents as a songwriter and half of punk duo Slaves, Laurie Vincent is also a visual artist, whose work has been used for Slaves' gig posters as well as album covers, and has been shown in various galleries and exhibitions around the UK. His work looks at social, global and personal events unfolding around him, with bold and expressive paintings that are powerful and rich in cultural references. 
As a musician in Slaves, the duo released their debut album Are You Satisfied? In 2015, which was nominated for the 2015 Mercury Music prize. Their second album, Take Control, was released in 2016, reaching number 6 in its first week on the Album charts.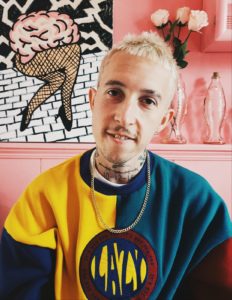 As a visual artist, Laurie's work has been shown in various venues around the UK such as Hoxton Arches, Amersham Arms, A-side B-side Gallery and Whistleblower Gallery. His paintings, bold and expressive, powerful and rich in cultural references, show a clear influence by artists such as Jean-Michel Basquiat, Raymond Pettibon, Barry McGee and Keith Haring, and is inspired by his life as a musician and his travels; and it often carries a political view…
"I want people to feel whatever they want when they look at my art. I don't intend on telling people meanings or what I think my paintings represent. People should have their own experiences with them".
As Guest Artist, Laurie Vincent has released a limited edition print titled "Trying My Best". The print will be available to buy exclusively at the fair for £75 and is an edition of 125.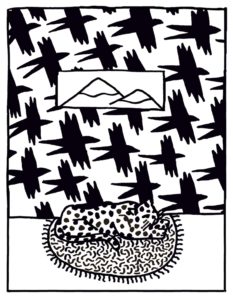 Book your tickets online now for The Other Art Fair London, 3-6 October at Victoria House.