LA: Curate LA's Must See Artists at The Other Art Fair
Ahead of the inaugural edition of The Other Art Fair Los Angeles we asked our partners at CURATE LA which artists they were most looking forward to see at the fair.
Since 2014, CURATE LA continues to be LA's go-to art resource, providing a comprehensive contemporary art guide, interactive map, mobile app, newsletter, art scene coverage, and exclusive content with artists and institutions across the city. With such a sprawling city that is home to so many great art spaces and creatives, Curate LA's mission is to connect the art community, highlight emerging artists and unique events, and help more people experience great art in the city — a platform for the LA art community to grow as an international art capital. Following on with this ambition to connect art lovers with the best emerging artists LA has to offer, Shelley Holcomb has selected her 4 Must See artists at The Other Art Fair LA.
Lisa Krannichfeld
Lisa Krannichfeld's expressive portraits refute the traditional portrayal of women being passive subjects to gaze upon, evident in their confrontational, and at times defiant expressions. Breaking traditions further, Lisa often uses traditional Chinese ink and watercolor materials in a nontraditional uncontrolled, free-flowing way often mixed with unconventional materials. See more of Lisa's work.
Barbara Gothard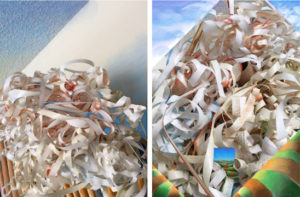 Palm Springs based artist, Barbara Gothard is known for her dynamic mystical realist paintings. Gothard's paintings embody a dream-like state which often reflects her desert environment in subject surroundings, color and aesthetic. See more of Barbara's work.
Hazel Miller
Hazel Miller is an experimental, process-based painter in Portland, OR. She reiterates traditional subject matter (nudes, still lifes, portraits) and art historical imagery to explore the evolution of visual culture and examine the female subject and gaze. Inviting a wide spectrum of abstraction and representation, she creates an ambiguous sense of time and space. See more of Hazel's work.
Caroline Collom
Caroline Collom is a British artist but shares here time between the UK and Australia. She is currently based in Sydney, Australia working on a new body of work. Collom's paintings hope to expose an inward and outward trajectory of multiple forms through intersecting planes that reveal subtle differences in the illusion of depth. See more of Caroline's work.
The Other Art Fair makes its west coast debut at the iconic Majestic Downtown LA, this March 15-18th. Meet and buy directly from 100 of today's best emerging artists. Buy your tickets for the fair online now.