Introducing The Faces Behind The Campaign
Meet the talented Fair artists specially selected to take part in The Other Art Fair London's Autumn photoshoot.
This coming edition of The Other Art Fair (5-8 October, London) will mark the twentieth edition of the Fair. Exhibiting artists Joanna Ham, Geraldine Swayne, Etienne Clement, Elle Kaye and James Green were selected to take part in this landmark edition's marketing photoshoot to be the face of the Fair's leaflets, adverts and tube posters. Meet and buy from them all at The Other Art Fair this 5-8 October.
JOANNA HAM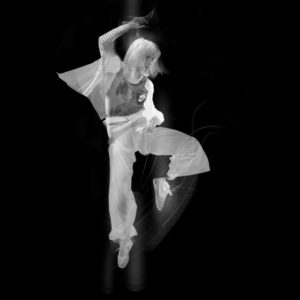 Joanna Ham is a London-based photogram and mixed media artist whose work seeks to explore the individuality of the modern woman with particular reference to popular culture and its overwhelming influence on our everyday lives.
Joanna has always been intrigued by consumerism, informed by her early career spent working in advertising and marketing, and is particularly interested in how we interact with brands, using them as tools for empowerment and expression. She has previously collaborated with Nike, Hilton and Eurostar's 20th Anniversary. She is also the founder and illustrator of homeware brand HAM.
GERALDINE SWAYNE
–
–
Geraldine Swayne is a painter, best know for her miniature paintings in enamel paint on metal. Geraldine's first museum show was in 2014 at Magasin3, Stockholm and she has since exhibited and been collected internationally.
ETIENNE CLEMENT
–
–
Etienne Clément's intensely alluring but deviously complex works weave different types of play together. The formal drama of architecture abuts the personal and political allegories of his play-mobile-esque narratives. They jar, when Clément wants them to and then merge in a trickey fashion when he wants to entice the viewer into closer communion.
Clément is a 'storysmith'. Ingredients for his narratives are both fact and fiction. It allows him to make up stories, to 'start' legends in any particular place he chooses. He builds up stories combining either solid and verified historical events or mythological/biblical themes and outright pure invention. The outcome, a new story where the fact/fiction boundaries are blurred. His works investigate the legendary, creating narratives that are never being entirely believed by the viewer, but also never being resolutely doubted.
JAMES GREEN
James Green is a British artist living and working in Sydney. James showed a strong aptitude for drawing from a very young age. This was acknowledged throughout his early education and early group shows sparked local interest in his work – resulting in James forming part of the small team commissioned to create ceiling paintings for The Ritz Hotel, London, aged 15. From a family with little creative background, it was much to their surprise that James followed an artistic path from day one.
James is currently based in Paddington, Sydney, where he works primarily from his studio. His works can be found in cities across the globe – including Bristol, London, Barcelona and New York, amongst other places. Recent years has seen James represented by internationally renowned Castle Gallery, Mayfair, and featured in TimeOut magazine.
ELLE KAYE
–
–
Elle Kaye is a professional taxidermy artist from London. She studied fine art at university and after taking just one class in taxidermy, she self-taught the rest. Elle regularly teaches taxidermy up and down the country as well as working on private commissions, exhibiting at art fairs and working on large projects for film and television.
The Other Art Fair returns to East London's Truman Brewery on 5-8 October 2017. Meet and buy these artists and many more! For more information about the October Fair Programme visit the London Fair's website.