Inside the Studio: Christy Powers
Get a glimpse Inside the Studios, a weekly IGTV series where our regional Fair Directors get taken on a personal Live tour around the workspaces and collections of The Other Art Fair exhibitors. Head to our IGTV to watch the interviews in full. 
Christy Powers is a New York based artist with a fascination for memory and nostalgia, reflected in her unique paintings. The artist illustrates socially vibrant scenes taken from personal and family archived photographs, whether this be banal everyday scenes or extravagant weddings. An element of mystery and captivation is weaved into her work by leaving the individuals faceless, to encourage the viewer to fill in the gaps with their own memories and to imitate loss of memory. Christy is idiosyncratic and refreshing in the field of contemporary painting, and we are pleased to have had a sneak peak into her studio life…
Tell us about who you are and what you do. How did you get into painting?
I am a New York City based painter with a studio in Bushwick, Brooklyn. My current work is an exploration of memory. I am fascinated by their universality, where moments from my past are similar to what others have experienced. The ephemeral nature of memory informs my stylistic approach of these pieces. As long as I can remember the studio/art-room has been my favorite place to be. I started painting seriously in high school because I found it to be the best way for me to express myself and communicate my ideas to others.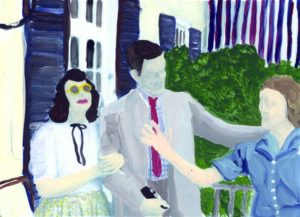 Three's Company – Christy Powers
Your paintings capture vibrant social scenes – what attracts you to focusing your work around such events?
I'm interested in the timeless nature of these social events. The ways we connect and interact in them are the same way, be it five or fifty years ago. When I look at photographs from a wedding in the 1960s, I see similar connections and relationships play out–even if the clothing and styling are radically different.
I'm most interested in the glimpses of intimacy in relationships, whether they are family, friends or lovers. Especially now in this time of forced separation, I think this is what we are all struggling to remind ourselves, of these close connections.
The subjects within your paintings appear posed – are they based on photographs? If so, where do you source the photographs?
My work is based on my personal photographs and my family's albums from when they were in the photo-engraving business. When my father passed away, I inherited a trove of photographs spanning over almost a century, from the early 1900s up to the 1980s.
In archiving my family photographs, I was amazed by how many similar moments I found in them, many captured in my own photographs. There are recurring themes; the intimate bond between mother and child, close female friendships and the celebration of life events, both major and minor.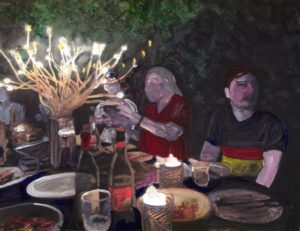 The Dinner Party – Christy Powers
What is the meaning behind removing the identity of your subjects?
When a viewer looks at any of my pieces, I want it to trigger one of their own memories. I work to develop this emotional resonance by painting with a dream-like style where some things are very clear while other details are lost or distorted. I remove the faces because it allows the viewer to fill in the subject with someone from their own experience.
I love the moment where someone comes to a show and connects with one of my paintings. The reaction is almost always immediate, the emotional response as they recall an important past moment.
Finally, tell us something about yourself that we might be surprised to hear!
I have a tendency to get so focused when I work that I pretty much shut out the rest of the world. When I was getting my masters at COFA in Sydney Australia, I had an amazing opportunity to spend two weeks in the outback on residency. On one afternoon, I took a long walk to go sketch alone with nature.
There I was, sitting by myself in the red desert, listening to Radiohead on headphones, totally immersed in my sketchbook. When I took a moment and looked up after a couple hours of drawing, two dozen kangaroos had surrounded me with the closest one being just feet away. I guess they didn't know what to make of me and my curious behavior.
Follow The Other Art Fair's regular 'Inside the Studio' series on Instagram with Live talks between Fair Director's and Fair Artists, and shop all Fair artists via the Online Studios.