Inside the Studio: Chloe McCarrick
The Game Changers. The Rule Breakers. The Innovators. Discover some of the fantastic emerging talent showcasing their work at The Other Art Fair.
London based artist Chloe McCarrick successfully redefines the boundaries set by traditional photography throughout her creative practice. Chloe's unique circular cyanotypes are a must-have statement piece, intricately developed in the darkroom and enhanced by a majestic yet delicate gold leaf coating. Inspired by themes of nature, influential women and science, Chloe's work is the subject of extensive research and intrigue, resulting in a fascinating and distinctive portfolio of art.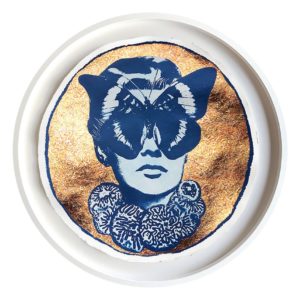 Nobel Marie XL – Limited Edition of 1 by Chloe McCarrick
1. Your work impressively demonstrates a modern approach to a traditional technique – the cyanotype. Why did you first decide to use this technique in your practice?
By exploring the basic elements of historical image making, in particular cameraless photography and cyanotypes, I wanted to push the boundaries of how we view photographic portraiture in the modern digital realm. I examine and develop innovative ways of reworking photographic, painted and illustrated images through the medium of hand cut collage and mixed-media print techniques by blending science, darkroom alchemy and fine art. Using a simplistic monochromatic colour palette of Prussian blue and white, I create unique ghostlike, x-ray silhouettes suspended deep inside the paper's surface, embodying a painterly and distinctive visual characteristic and an otherworldly aesthetic.
I focused on using cyanotypes after revisiting my research on British botanist and photographer Anna Atkins. Atkins used cyanotypes to document algae specimens for her scientific reference books. It seemed a fitting tribute to use a light sensitive process pioneered by a female scientist and fellow photographer in creating my series of inspirational ladies.
2. How did your interest in photography develop?
Initially I studied fine art, I then went on to focus more on image making, studying and lecturing in photography and interactive media. I was interested in utilising my fine art training within my photographic practice, so researched ways of approaching a new way of image making as a process built up of multiple layers and artistic techniques rather than just traditional photography.
Freedom and experimentation for me were key factors in developing my personal style, through rule breaking and blending art forms/techniques together, and taking inspiration from traditional approaches to image making with a contemporary technological twist.
3. What does the use of gold leaf in your artworks represent? How do you apply the leaf to your art?
Each piece is constructed from scratch, fabricating the paper or porcelain foundation, starting the life cycle, building up the layers. The handmade paper is a work of art in itself, the recycled cotton rag pulp creates the base structure upon which to let my pieces develop.The addition of pure gold, copper and zinc leaf by hand adds intensity to the tonal and textural qualities of the piece and honours the materials used. Allowing each separate element to support the others, not one overpowering the other, adding depth and uncovering the non perfect surface beauty below. The leaf is applied using a variety of gilding brushes to avoid tearing.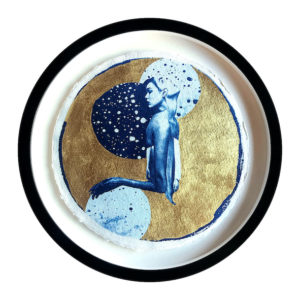 Circular Musings In Heaven (No12) – Limited Edition of 1 by Chloe McCarrick
4. What was your thought-process behind presenting the works in a circular fashion?
The history of the natural world, anatomy and science art has always fascinated me, everything is related, connected, part of a chain, a cycle, an ever revolving and evolving changing, hence the idea of using circles arose.
These ideas are reflected throughout my methodology from the creation of the paper (handmade from recycled cotton rags and circular moulds), within the construction of the images themselves (featuring circular motifs and objects from petri dishes to the moon), the process of exposing using natural light and washing in moonlight, in all weather conditions throughout the seasons, and the circular theme carries through to framing the finished pieces in hand made round frames.
5. Can you tell us about your interest in females in history and mythology?
Growing up, I forever questioned why we didn't learn about pioneering women in science, in art, in mythology and history. They seemed to be a mere afterthought in the 90's curriculum and hardly included in texts at school, this irked me. My parents thankfully bought me books and took me once a week to the two local libraries so I could stock up on reading materials to feed my thirst for discovery (in the days before the internet was a means of instant research)!
Female empowerment is a recurring theme in my work, constructing visual narratives from the lives of extraordinary, trailblazing women – celebrating their achievements, uncovering their struggles and chronicling the stories of these often unsung heroes. I want people to feel connected, connected to their stories and to notice the unnoticed.
Follow The Other Art Fair's regular 'Inside the Studio' series on Instagram with Live talks between Fair Director's and Fair Artists, and shop all Fair artists via the Online Studios.