Whetting your Appetite for Art
Get ready to feast your eyes on a mouthwatering medley of food art that will not only tantalize your taste buds but also tickle your artistic and interior senses. These four food-centric artists are cooking up a storm in the world of visual delights, and they're about to serve up their delectable creations at the upcoming edition of The Other Art Fair Brooklyn. 
Take a bite out of their stories ahead of your visit…
(Above: Haley Cubell)
Haley Cubell
Brooklyn native, Haley Cubell's hyperrealistic drawings of iconic food brands and cheerful blueberry pancakes are nothing short of awe-inspiring. With an artistic process that's equal parts focus and whimsy, Haley transforms every stroke into a burst of color, shape, texture, and movement. Her creations not only evoke a sense of nostalgia but also invite the viewer to revel in the senses of sight, smell, taste, and touch. Step into her vibrant world and let your inner child run wild!
(Above: Haley Cubell. Cookies. Drawing)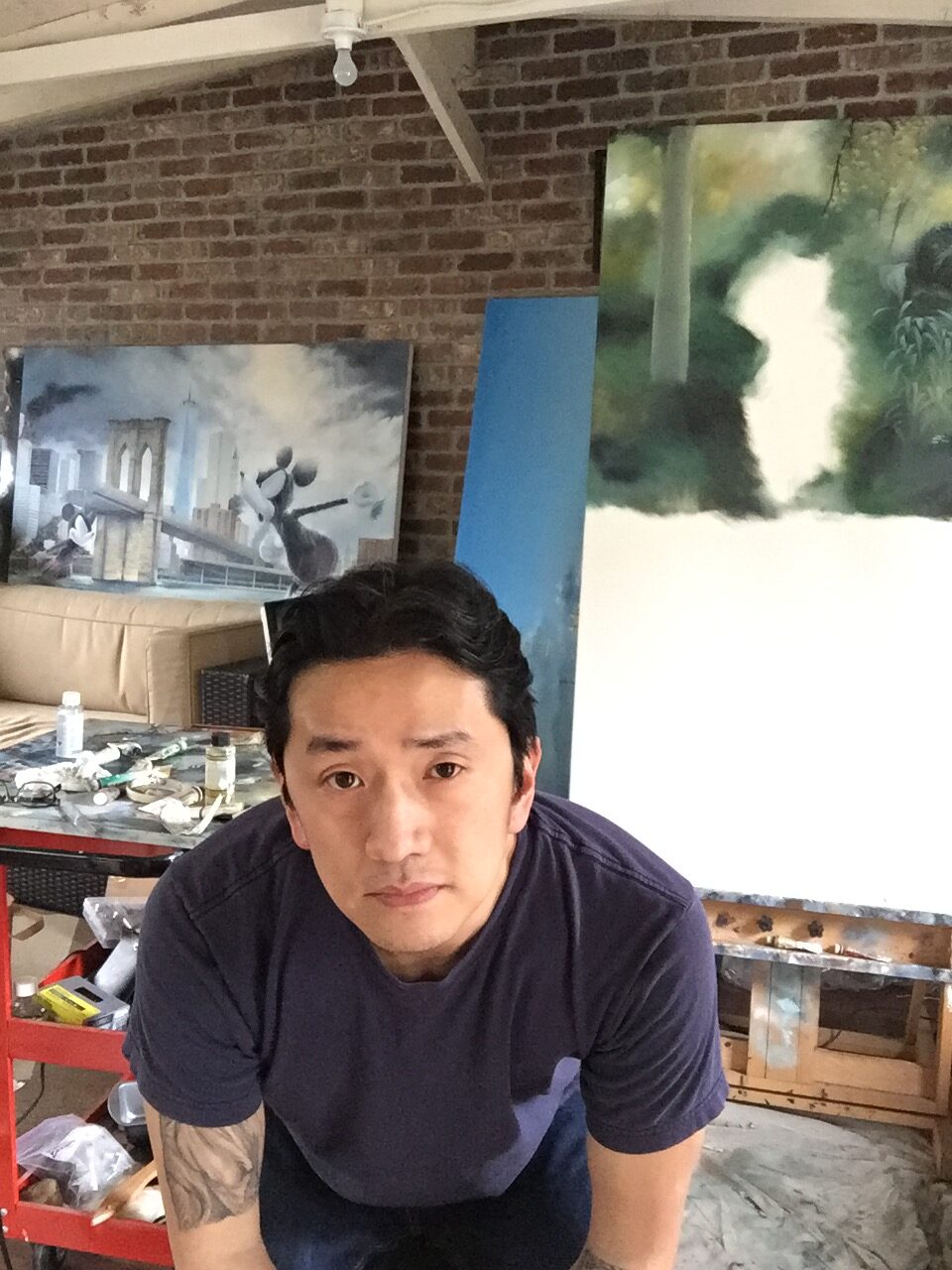 (Above: Wayne Chang)
Wayne Chang
Wayne Chang is a maestro of dark humor, weaving tongue-in-cheek, dystopian narratives through his art. From a fallen Mayor McCheese to eerily open 7-Eleven stores amidst seemingly abandoned environments, Wayne's work is a commentary on self, family, and society. Drawing inspiration from a diverse range of artists, his work plays with viewers' expectations of the world. Through his unnaturally reimagined images of everyday life, Wayne challenges us to confront racial, commercial, and political issues.
(Above: Wayne Chang. Happy Meal. Oil Painting)
Dilara Niriella
All the way from Kellyville, Australia, Dilara Niriella brings a unique twist to the art of sculpture and views of domesticity. Her hyperrealistic creations depict bustling kitchen scenes, lively party aftermaths, and sculptural wood cut-outs of beloved food brands like Vegemite and the iconic soy fish dispenser. With an underlying theme of consumerism, identity, and familiarity, Dilara's art challenges perceptions and invites contemplation. She even gave an insight into her studio ambiance – think music, podcasts, and a trail of half-empty tea mugs!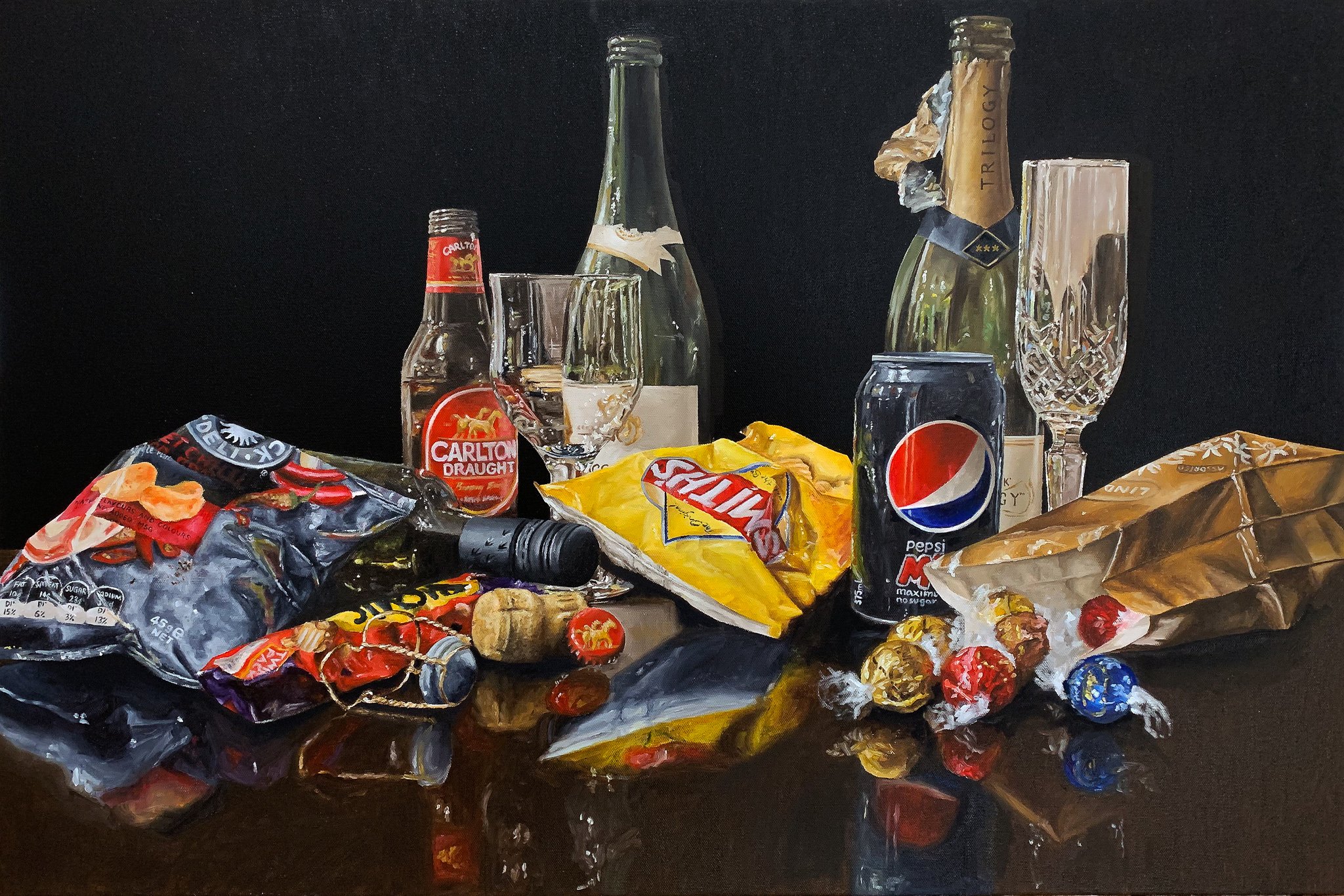 (Above: Dilara Niriella. Saturday Night. Oil Painting)
Bella Wattles
Bella Wattles' paintings are a celebration in themselves. With watermelon and cake taking center stage against inviting, lived-in backdrops, Bella invites you to step into her world and embrace self-celebration. Her works are a tribute to the relationships between objects, often featuring creations by women and LGBTQ+ artists. By showcasing colorful, carefully curated items, Bella champions the idea that women are the backbone of society. Prepare to be enchanted by whimsical environments, where toy cars and disco balls take center stage in a modern twist on classic still life compositions.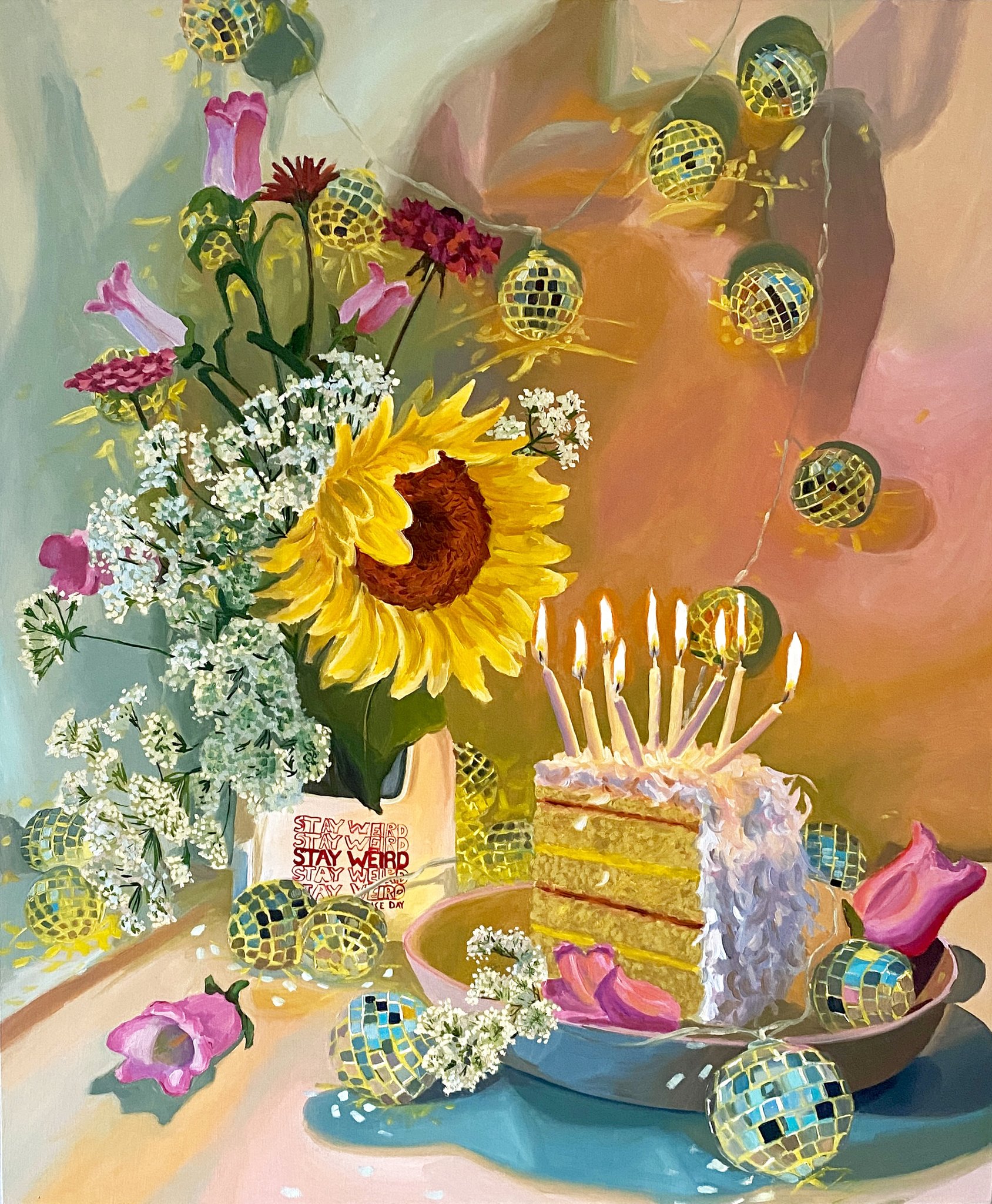 (Above: Bella Wattles. Embrace the Fantasy. Oil Painting)
Get ready to dive into a world where food meets art, where every stroke and shape tells a tasty tale. Join us at the Brooklyn edition of The Other Art Fair (November 9 – 12, ZeroSpace) for a visual feast that you can order to-go!