Finding Stripes: Ed Liddle
The Other Art Fair sits down with past fair artist Ed Liddle ahead of his solo show Choquette! (12 Feb-19 March 2016) at French gallery Pierre Poumet.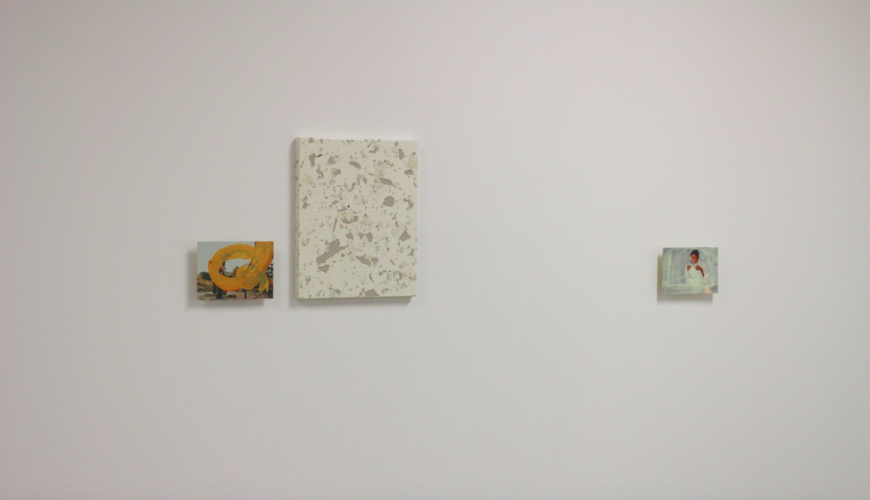 Congratulations on your current solo show, Ed! Since completing your Fine Art degree in 2012, your professional career has been varied, please share a few highlights.
Varied is very true! In fact, this question has made me reflect on the different projects I've worked on over the past four years since graduating from Brighton. It's been interesting to think about which experiences I've enjoyed but also establish how to assess the impact of an exhibition or project – and subsequently figure out what constitutes as a highlight!
I was proud to receive Arts Council Funding for my exhibition 'Wowzers!' (April 2013), a project that I worked on with an artist-run space in Brighton called 'Community Arts Centre'. Receiving support from the Arts Council was a real boost as well as help, enabling me to create new work that would otherwise have been impossible due to its site-specific and research based nature. As an artist starting out it is often difficult to choose which projects to pursue, so being given the money to make ambitious and potentially less saleable work was great.
Another important moment was exhibiting at The Other Art Fair! Admittedly, it was a very different experience to the exhibition in Brighton but being a part of the fair taught me a lot. It was a really fun weekend and has ultimately helped me to further understand how viewers and buyers approach my work.
More recently, I participated in a two-week residency, located in a disused Brussels townhouse alongside 14 other artists.  It was a completely exhausting fortnight as I was still going to work every morning, however, I had the space to experiment with ideas I had been considering for a while and consequently I felt a huge shift in my work… a really positive shift that is! I was free to make new and unfamiliar work during the residency – I was working in a place with a group of artists I did not know and who did not know my work.
Please tell us more about Chouette! How did your relationship with Pierre Poumet come about?
Chouette! is the title of my solo show at Pierre Poumet gallery in Bordeaux. I met Pierre on the last day of The Other Art Fair in 2014. We spoke briefly about my work before Pierre grabbed one of my cards and rushed off to see the rest of the fair. Several months later he contacted me to arrange a studio visit. By this point I had moved to Brussels and luckily we were able to meet up in Belgium the following week.
We discussed exhibition ideas over beer and frites (we really did!) and initially planned to stage an exhibition in Bordeaux, where Pierre was opening his new gallery in November 2015. Due to delays however we eventually agreed to move the dates back and stage the exhibition in February 2016. Meanwhile we continued to exchange ideas and develop the exhibition via email and skype.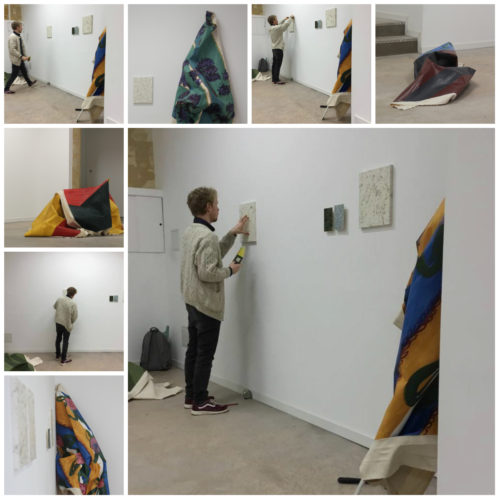 What is your intention for the solo show?
I'd like audiences to walk into the gallery and say something like 'Shiiiiiiiit', 'Whaaaaat' or even 'Coooooool'. After this initial reaction it would be great if they moved around the space, investigated the works up close and took a moment to view all of the separate works as a whole. Viewing art can be an extremely passive experience; we are all guilty of snapping a quick picture and moving on to the next gallery.
I hope that people are intrigued to stay and look. There are several entry points to my work and given some time and attention there are multiple ways to read them. I'd love people to spend time in the exhibition familiarizing themselves with the language of the works and be able to come away with new ideas. I really don't mind what. They may love the colours, great! Or perhaps they feel the works are strange, it doesn't matter. It's impossible to appeal to everyone. Making an exhibition isn't a platform to say 'Hey listen up my ideas are the best'. For me it is a means to say 'Hey, here's some thoughts I had, what do you think?'. It is an opportunity to open up a dialogue and see what happens.
What advice would you give to artists hoping to work with galleries?
I currently work in a gallery so my views on working with them have been formed from both viewpoints, artist and gallery. I think it's crucial to build up a personal relationship with galleries.
Unless they are actively seeking new work (via an open call and so on), I would advise against sending a portfolio to a gallery you have no previous connection with. Whilst it is not the case with all galleries, I know a few where they are sent around 60-100 artist portfolios a day – most of which never get viewed by those in a position to make the decisions about which new artists will be represented.
Therefore, be active, and most importantly, be willing to talk about your work in any situation as you never know where a conversation will lead you. Take heart that these conversations don't have to happen in an 'art world' context. Be open to explaining your work and ideas to anyone who will listen! If you're not a confident speaker then a platform like Twitter can be a great way to meet people and start a conversation.
Galleries are always on the look out for new work and they approach this in various ways. You need a presence somewhere, be it taking part in an event like The Other Art Fair, exhibiting at open studios or using social media. There is not one strategy that can be said to work, luck also plays a role. If you are able to exhibit the work that you want in the manner that you conceived it, then go for any opportunity that comes your way. If you feel you have to make too many compromises then say no, you don't want to misrepresent yourself.
If galleries become interested in your work be open but don't be scared to ask questions, negotiate or even say no! Be respectful and in return you will be respected too. There is an element of nepotism in the art world but most galleries are run like small businesses, and you find that gallerists work with those whom they get on. This sounds kind of basic but in my opinion its encouraging to know that there are people like you out there, who share the same ideas about making art, but instead of making it, they want to support your practice and exhibit it (and hopefully sell it too).
Please tell us more about Painting Sculptures. How do the crumpled forms relate to those you have chosen to hang on the wall in a more traditional manner?
Painting Sculptures was developed around the idea of how to display and deal with my own old paintings. These are works I hadn't been able to discard, in contrast to works that I have completely destroyed.
For Chouette!, I created a series of Painting Sculptures working in direct relation to the space of the gallery. Using existing canvases, the old paintings become physical objects: their crumpled forms suggesting weight and movement. The various paintings (each with their own unique histories) are unified as a discarded collection.
When you effectively screw a painting up, the colours and gestural mark-making are elevated above that of the subject matter. Pattern, figuration and abstraction become the same; each draws attention to the limitations of painting. This encourages the viewer to truly look; glimpses of former compositions emerge as visitors walk around the pieces.
Alongside the Painting Sculptures is a new series titled Fleck Paintings, inspired by a decorative painterly effect I discovered in Brussels. Additionally I selected smaller works from my ongoing body of work The Postcard Series.
I was interested to see the different works in relation to each other. I see each body of work as related, (of course, they're all made by myself!) but each series takes on a different role when displayed together. I wanted each work to act as the start and end point of the overall composition. This desire turned the curation stage into a 5-day process as we took time to continuously move works around the gallery.
Each instagram post from @stripe_finder is a daily highlight, where did the inspiration for this theme arise? Do you have any favourite posts?
Ah thanks! I joined Instagram late, because I wasn't sure that my photos of avocados and artisanal coffee brews were quite up to the standard! As I was already on facebook and twitter, I decided to utilize instagram in a different way. Plus I enjoyed the the slightly odd accounts or those ones themed around a subject. I was already photographing examples of stripes for my research so I began my instagram account as an open archive.

One of my favourite posts is an image of a pair of slippers that feature a stripey lining. I stepped out of the shower and spotted them on the bathroom floor (they belonged to my housemate). This gives me a chance to share my love of the word for slippers in French, which is pantoufles! I urge you to say this word out loud, now.
What is the next direction for your work?
Right now my mind is pulling in different directions. I'm very pleased with the show in Bordeaux but the process of developing work continues almost immediately. But for the moment I'll let the ideas settle a bit. That's not giving so much away is it? Haa sorry! How about this? Follow me on Twitter or Instagram and I promise to post updates….
---
Edward Liddle, Chouette!, 12th February – 19th March 2016, Pierre Poumet
130 RUE NOTRE-DAME 33000 BORDEAUX, FR
"Positioned somewhere between Painting and Sculpture, subject matter in Edward Liddle's work is reduced to its purest elements. The works in Chouette! offer an opportunity to reflect upon the constant re appropriation, not only of external pre-existing imagery, but the imagery sourced from the artist's own personal history. The playful works presented in Chouette! unashamedly ask 'Why not?'. The limits to what can be called painting are scrutinised as viewers are invited to encounter a distinctive visual language, one that bombards as well as rewards."