Explore Brooklyn's 4 Must See Artists at The Other Art Fair Brooklyn
Ahead of the second edition of The Other Art Fair Brooklyn, we asked the Brooklyn experts at the Chamber of Commerce and Explore Brooklyn which artists they are most excited to see. 
The Brooklyn Chamber of Commerce is the largest and fastest-growing Chamber of Commerce in New York. It was named 2017 Chamber of the Year by The Business Council of New York State. The Chamber promotes economic development across the borough and serves as an advocate for its member businesses. Its mission is to promote a healthy and robust business environment throughout Brooklyn. The Chamber will celebrate its centennial in 2018.
Explore Brooklyn was established by the Brooklyn Chamber of Commerce in 2014 as the official tourism promotion department for the borough's travel and tourism industry. The Brooklyn Chamber of Commerce contributes to the economic development and quality of life for Brooklyn residents and its chamber members by promoting the borough as a world-class destination for tourism, attractions, events, meeting and conventions, trade shows, sports, dining and more.
Paul Richard
Brooklyn based artist Paul Richard's practice goes beyond working in his studio. His iconic drip paintings can be spotted on the streets of New York and his Fine Art portraits can be found in the collections of a number of high profile collectors. See more of Paul's work. 
Ilisa Katz Rissman
After attending college and art school, Ilisa Katz Rissman began a decade-long career as a commercial photographer. For the past several years Ilisa has dedicated herself to working on concurrent long-term fine art projects and commissioned portraits, choosing large format analog cameras to produce detailed, evocative images. See more of Ilisa's work.
Gregory Reid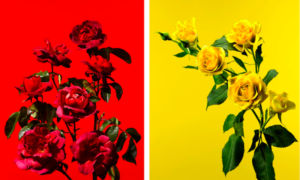 Photographer Gregory Reid beautifully accentuates the vivid colours of the subjects in his photographs. Having graduated with a BFA in photography from the School of Visual Arts, Gregory's photography ranges from fine art to editorial. The upcoming edition of The Other Art Fair will be Gregory's first time exhibiting. See more of Gregory's work.
George Underwood

George Underwood captures the candid beauty of America in his photographs. In capturing his scenes, George 'explores the way we live and invites the viewer to revel in these moments and gives permanence in the fleeting nature of modern day culture.' See more of George's work.
The Other Art Fair Brooklyn returns for it's second edition from November 9 – 12  at Greenpoint's Brooklyn Expo Center. Meet and buy directly from 110 of today's best emerging artists. Buy your tickets for the fair online now.