Exclusive Harland Miller Work at The Other Art Fair Bristol & Art on a Postcard Secret Auction
Acclaimed British artist and author Harland Miller, best known for his large-scale, photo-realistic paintings, posters, and prints of vintage Penguin book covers, has released a triptych of hand finished prints in support of Art on a Postcard including; 'Colour Made Me Hard', 'Back on the Worry Beads' and 'Overcoming Optimism'.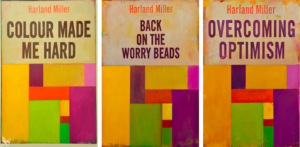 These exclusive artworks will be available only at The Other Art Fair in Bristol as part of Art on Postcard's Secret Auction on Sunday 29th July. Visitors will have to attend the fair in order to bid for the chance to buy one or the whole series. The Street Art vs. Street Photography themed postcard auction will also feature an international roster of artists.
To date Art on Postcard has raised over half a million pounds for The Hepatitis C Trust and their campaign to eliminate hepatitis C has gathered momentum. Already this year The NHS has struck a deal with the pharmaceutical industry to provide affordable treatment to everyone.
All the cards will be on show at The Other Art Fair from 26-29 July, The Passenger Shed, Bristol, BS1 6QH. A list of artists can be seen at The Art on Postcard Website but the artwork will remain anonymous until the bidding has finished.