London: designjunction's 4 Must See Artists at The Other Art Fair London
Our partners at designjunction host the leading exhibition for contemporary interior design and culture, held annually in London during London Design Festival. Ahead of The Other Art Fair in October, Director Will Sorrell chose 4 artists he's most looking forward to seeing. 
Alan James McLeod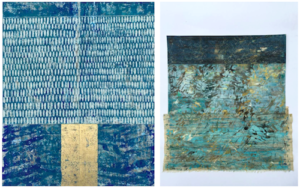 After a brief, but successful career as a freelance textile designer, Alan James McLeod had a long hiatus away from the world of art and design. Only returning in earnest at the beginning of 2014 producing hand-painted papers that he often collages together, to produce mainly abstract and highly textural artworks. Alan creates a subtle synergy between decorative elements and textured surfaces to imbue each work through the use of gouache, gold paint and gold-leaf. See more of Alan's work. 
Michelle Heron

Norwich-born Michelle Heron's paintings depict the British high street and in particular fast disappearing old London shops. In recent years, Michelle has noticed that her surrounding neighbourhoods have changed and lost much of their individuality and charm to modern development. See more of Michelle's work.
Karen Wood

Karen Wood describes herself as a painter, printmaker,  & installation artist. She uses her source gathering explorations to show permutations of architecture, cityscapes and roadmarkings with a specific emphasis on how space and movement are controlled and restricted. Out on the streets of London, and other cities when visiting, Karen takes photographs of road markings, road signs, construction sites and architecture. Karen's photographs document her pre-occupation with industrial colour, geometric form (with a specific interest in the void-life shape), and the 'spaceinbetween' created within and by these urban landscapes. See more of Karen's work. 
Matt Jukes
Matt took to printmaking in 2005, always exploring heavily layered large format monotypes. Matt's work is best described as peaceful abstraction which is an antidote to a hectic London lifestyle, harking back to his halcyon days in Australia when he spent his formative years. He likes to allow the viewer to spend time with the work, absorbing the details and read their own interpretation into his work. See more of Matt's work.
These artists are four of the 130 artists exhibiting at The Other Art Fair, 5-8 October at the Old Truman Brewery. Buy your tickets for the fair online now.