Brooklyn: Theodore Jahng Presents An Unrivaled Music Program
Local New York DJ Theodore Jahng will be presenting a program of first-class DJs to provide the soundtrack to the Spring edition of The Other Art Fair Brooklyn.
In addition to DJing regularly in Brooklyn and Manhattan, Theodore is a music supervisor, specializing in soundtracks for fashion shows & presentations, multimedia design projects, and commercial spaces. In curating the music program for The Other Art Fair, there was a desire to work with some of the best independent labels, stores, and artists in New York; the DJs performing in the resulting lineup embody the multidisciplinary approach of so many artists in New York; playing at The Other Art Fair Brooklyn provides an opportunity for them to stretch their sound and play selections that they normally would not be able to play in a club environment.
For his own set during the Private View, expect Theodore to play an eclectic mix, including left-field gems, strange pop, rare groove, obscure film scores, and, of course, the necessary Sade deep cut.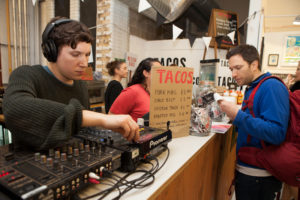 Following Theodore Jahng's set on Thursday at the Private View we have…
Friday
Samer Ghadry: Brooklyn-based musician and irreverent radio DJ
Sarah Abney: New York-based performer and video artist. DJing and video-making allow her to use the city as a moving landscape for narratives and image-making.
Liam Benzvi: New York-based singer, musician, and DJ. He is the singer of Strange Names and also performs solo work under the name Soft Ethnic.
Dan Small: Daniel Small is a Brooklyn-based nightlife impresario with little taste but a lot of heart.
JD Samson: Best known as the leader of MEN and a member of the legendary Le Tigre, JD Samson's career as a DJ, producer, and singer has landed her at the intersection of music, art, activism, and fashion. Co-founder of PAT, one of NYC's best monthly dance parties, JD is an innovative and crowd-pleasing DJ focusing on "creating spaces for rad people to dance and smile and hold each other".
Saturday
Mexican Summer: Based in Brooklyn, Mexican Summer is an independent record label serving specialty formats since 2009. Their mission is to advocate the work of adventurous musicians without the limitations of genre or form. DJ duo Freak Terrains will be representing Mexican Summer at The Other Art Fair.
Blue Sun: Blue-Sun is a new record and clothing store located in the Southside of Williamsburg. The shop has a small footprint with a focused selection of predominately used vinyl spanning across all genres. Alongside the Jazz, House, Reggae, Soul, etc., you can find the Blue-Sun clothing line which is designed in house and made in limited quantities. Blue-Sun holds a space for new and old collectors alike. Strictly positive vibrations.
Jen Monroe: Jen Monroe is a DJ, music curator, and chef. She writes the blog Listen To This!, which focuses on New Age and Japanese Pop. Her on-going pop-dinner project, Bad Taste, is an exploration of the intersections between food and sociocultural fabric.
Sunday
Darker Than Wax: Darker Than Wax is an underground electronic music label based in New York and in Singapore, where it was founded. DTW will be represented by Marcus Rosario, a DJ, radio host, producer, & music educator based in Brooklyn.
Astro Nautico: Started as a college radio show by three high school friends, Astro Nautico has grown into a Brooklyn-based electronic label and monthly dance party. As their name suggests, their sound knows no limits. Co-founder Sam Obey will be representing the label at The Other Art Fair.
Turntable Lab: With a reputation spanning the globe and nearly two decades, Turntable Lab is an institution within the DJ community, a collective of tastemakers promoting burgeoning music, art, and street culture, with a retail outpost in the East Village.
The Other Art Fair Brooklyn will return to Greenpoint's Brooklyn Expo Center from May 3-6 2018.