Brooklyn: Printing from Nature
New York city is not exactly known for it's natural habitats, unless we are talking about the urban jungle. Nature though is an important source of inspiration and subject matter for many TOAF artists. We asked two artists, Emily Shopp and Peter Eastman who print from nature a bit more about their work.
Emily Shopp, Washed I
Emily Shopp
Nature is a big influence in your work, can you talk a bit about your relationship with nature?
My relationship with nature is largely related to my own mental health. I have some anxiety issues (as I'm sure most artists do), and natural environments provide space to breathe. Since I live in Chicago, I'm challenged to creatively find ways to interact with natural elements. I live with several houseplants, collect organic objects (sticks, rocks, pinecones), and spend a lot of time at the lakeshore. I'm in the process of transitioning the traditionally toxic printmaking materials I use to non-toxic and environmentally friendly ones. I'm trying to make this relationship less one-sided.
Can you tell us about your process?
I usually start with drawing a collected or photographed object, and transferring the drawing to a copper plate for etching or a wood block for relief printing. I like to focus on creating an ambiguously organic visual space as opposed to clearly representing the object, and I've found variation, repetition, and layering to be effective. I basically print the image multiple times on top of itself between multiple layers of semi-transparent paper.
What are you inspired by at the moment?
Well, I just got back from a trip to the Columbia River Gorge in Washington, and that was amazing. I was super inspired by this floppy, wrinkly lichen floof I found on a rock. I'm sure that will be one of my future prints. I've also recently been a bit obsessed with irregular fracture lines on rocks.
Emily Shopp, Campfire Smell II
Peter Eastman
Nature is a big influence in your work, can you talk a bit about your relationship with nature?
Though my work is non-representational, Nature inspires and informs everything I do.  At its essence my work is a search for harmonic beauty, which I believe is best found in natural shapes, patterns, colors, sounds, and movement.  Each work is a record of a pursuit that I would compare to gold mining or pearl diving.  Preparation is complex, deliberate, and essential.  And the result is usually a surprise, though a surprise that is sought after.
Peter Eastman, Untitled
Can you tell us about your process?
The first event of every piece is the invention of a shape.  That shape is arrived at by a combination of intuitive drawing and distillation.  Step 2 is to cut out the shape, and then exploit it as vehicle for printing, as stencil, and as collage material.  Then, using dry pigment and shellac, and often working with translucent Japanese paper, I manipulate both front and back of the paper to arrive at a finished image that I hope appears to emanate from within.
What are you inspired by at the moment?
Lately I've been working a lot with edges.  I'm intrigued by the collision of edges, which sometimes appear like shifting geological plates.  As well, the edges seen against empty spaces resemble landscapes and terrain.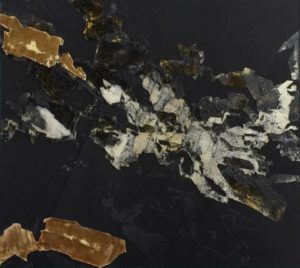 Peter Eastman, Untitled, Collage
Peter Eastman and Emily Shopp's work will be on view at the upcoming edition of the Brooklyn Fair.