Brooklyn: Overall Murals Redefining Sign Painting
Overall Murals represents a new generation of sign painters and muralists. Since 2010 their team of talented painters, have traveled the country to realize large-scale public, private and commercial artwork. 
To honor the third edition of The Other Art Fair Brooklyn (May 3-6 2018) Overall Murals emblazoned a wall in Greenpoint with fair artist Fei Alexeli's work.
Meet the company's artists to be featured in this year's fair…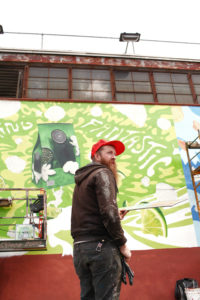 Shane Donahue: Shane has worked with Overall Murals for the past four years and is one of their most valued artists. His personal style is derived from his rural upbringing and is a mixture of print making and hand paint.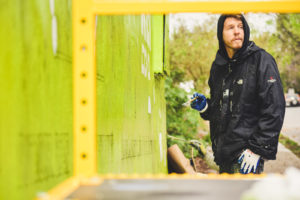 Deps: Carson's travels throughout the world have an obvious impact on his mixed-media artworks. His graffiti-style work adds an important traditional dynamic to the crew.
Brad Marshall: One of the original wall-dogs, Brad has been painting signs for roughly forty years, since before vinyl signs took over the industry. His personal work is often done in plein air of landscapes.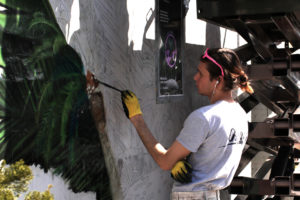 Harlan Ballogg: Harlan is a recent graduate of The School of Visual Arts. His colorful photorealistic style is bold and recognizable.
Christopher Slaymaker: As a traditionally trained visionary painter, Chris brings a special talent to the Overall Murals team. He is able to create photorealistic murals that do not lose the integrity of the image.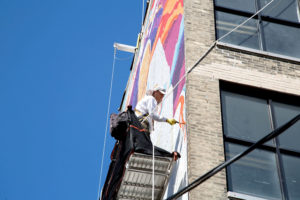 Andrew Hurley: A sign-painter and musician, Andrew specializes in meticulous lettering.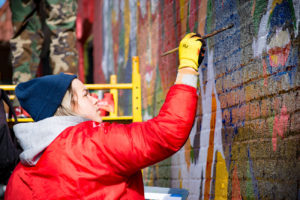 Nadya Voynovskaya: Gracing us from San Francisco via Russia, Nadya is one of the very few female walldogs in this male dominated industry.
The Other Art Fair Brooklyn returns for its third edition from May 3-6 2018 at Greenpoint's Brooklyn Expo Center. Meet and buy directly from 130 of today's best emerging artists.
SaveSave
SaveSave