Brooklyn: NYCxDESIGN's 5 Rising Stars at The Other Art Fair
Ahead of the third edition of The Other Art Fair Brooklyn, the local design experts at NYCxDESIGN shed some light on which artists they are most excited to see. 
NYCxDESIGN, New York City's annual celebration of design, attracts hundreds of thousands of attendees and designers from across the globe.  The sixth edition will take place May 11–23, 2018.  NYCxDESIGN celebrates a world of design and showcases over a dozen design disciplines through events taking place across New York City. Visit nycxdesign.com to design your NYCxDESIGN journey.
Melanie Norris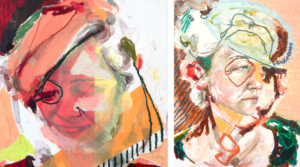 Melanie Norris lives and works in rural North Carolina. By initially painting portraits in watercolor and then layering oil paints and pastel over the top, Melanie's work uses portraiture as a basis for abstraction. See more of Melanie's work.
Isaiah King
Isaiah King is an artist and designer based in Greenpoint, the home of The Other Art Fair Brooklyn. He was born in rural Canada into a community of artists, activists and craftspeople. See more of Isaiah's work.
Lorenza Panero

Lorenza Panero is a visual artist based in Bogota, Colombia. Drawing inspiration from the exuberant natural landscape and topography of Colombia, Panero creates light-filled images which reflect her exploration of the force of memory and its relation to language. See more of Lorenza's work.
Jeff Davis
Jeff Davis creates large and small scale sculptures out of various kinds of metal. The multi-dimensionality of his works form optical illusions for the viewer.  See more of Jeff's work.
Michael Wallner
Michael Wallner's work highlights the shapes and outlines of a city that define it. His portfolio features a wide range of alternative mediums, including brushed aluminum, reclaimed wood, neon, magnetic, and L.E.D installations. See more of Michael's work.
The Other Art Fair Brooklyn returns for its third edition from May 3-6 2018 at Greenpoint's Brooklyn Expo Center. Meet and buy directly from 130 of today's best emerging artists. Buy your tickets for the fair online now.
SaveSave